Okroshka in Broth
by Editorial Staff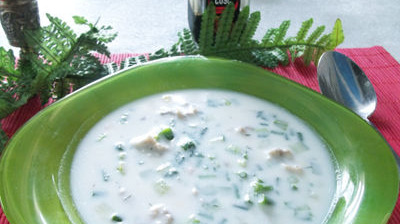 Okroshka, I think, is prepared by every housewife, and there is nothing special in the okroshka recipe. The only difference is in the liquid used in which okroshka is prepared – kvass, kefir, whey … But I want to tell you how to cook okroshka in broth.
Ingredients
Meat (pork) – a small piece
Potatoes – 5-6 pcs.
Cucumbers – 4 pcs.
Eggs – 5 pcs.
Green onions – a large bunch
Dill (I had frozen) – a large bunch
Salt to taste
Citric acid – to taste
How to cook okroshka in broth:
Directions
Wash the meat, put it in a saucepan, pour water, put it on fire, and cook the broth. When the broth is cooked, remove the meat from it, and put the pan in the refrigerator for about 3-4 hours. During this time, the broth will cool down and frozen fat will form on its surface. This is exactly what we needed, or rather not needed – take a slotted spoon, remove the fat, and throw it away. And cook okroshka on a clean broth. I cook the broth in the evening, and in the morning I cook okroshka. This will ensure that all the fat is removed from the pan. The most important thing is done, now get down to the standard procedure.
Boil potatoes and eggs.
Then peel the potatoes, cut into cubes and send to the pan.
Peel the eggs cut them and send them after the potatoes.
Now cut up the meat.
Slice the cucumbers.
Chop green onions.
Well, chop the dill.
Put sour cream in a saucepan with vegetables, pour in the broth, season okroshka in broth with salt and citric acid.
Mix everything and serve chilled okroshka.
Enjoy your meal!
Also Like
Comments for "Okroshka in Broth"