Lenten Okroshka
by Editorial Staff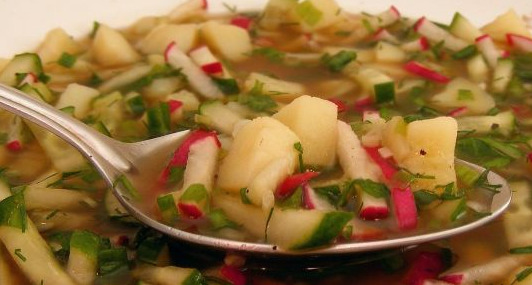 The recipe for lean okroshka is simple, it cooks quickly and does not require complex ingredients. Okroshka in fasting is an excellent dish of lean cuisine, so as not to spend a lot of time and energy on cooking, but to get a boost of vivacity and vitamins.
Cook: 1 hour 10 minutes
Servings: 2
Ingredients
Bread kvass – 300-500 ml
Potatoes – 75-100 g (1-2 pcs.)
Cucumbers – 50 g (1 pc.)
Radish – 50-60 g (3-4 pcs.)
Green onions – 0.5 bunch
Parsley greens – 2-3 sprigs
Dill greens – 2-3 branches
Mustard – 1-2 teaspoon
Salt – 0.5 teaspoon
Ground black pepper – 0.25-0.5 teaspoon
Directions
Boil the potatoes in their skins, let them cool, then peel them and cut them into small cubes.
Wash fresh cucumbers, cut into strips.
Wash the radishes thoroughly, cut the tails, chop them into strips.
Chop the herbs.
Chop green onions.
Mix it with chopped herbs, salt, add mustard and black pepper.
Grind well.
Place everything in a bowl or enamel saucepan.

Stir, pour in kvass, and mix again. Put the lean okroshka in the refrigerator for 15-20 minutes, then serve.
Enjoy your meal!
Also Like
Comments for "Lenten Okroshka"