Okroshka
by Editorial Staff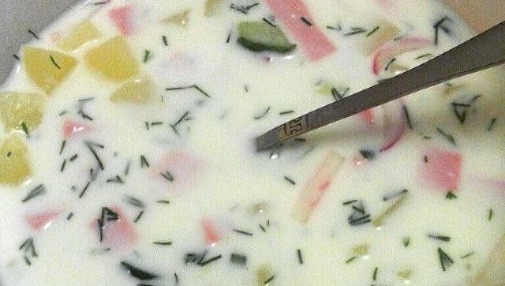 Heat, sun, laziness, a feeling of comfort … Okroshka … Instead of a thousand words … How is this miracle prepared? It's very simple! Lots of chopped ingredients and favorite filling.
Ingredients
Medium potatoes – 4 pcs.
Large cucumbers – 2 pcs.
Eggs – 4 pcs.
Radish – 7-8 pcs.
Boiled sausage – 200-300 g
Fresh parsley
Green onions
Kvass or kefir or ayran
Mustard (for serving)
Directions
Boil potatoes (peeled) and eggs (eggs immediately in cold water).
Finely chop the cucumbers, radishes, onions, and herbs, and cut the sausage into cubes.
Cut the cooled potatoes and eggs in the same way.
Pour all this into a saucepan and mix well. It is advisable, of course, to fill the pan to the very top. I do not pour okroshka right away – it can be stored this way longer, and in general, it's more convenient.
So. I wanted a portion of the most delicious okroshka. To do this, I pour our blank into a deep bowl and fill it with kvass / kefir / ayran – of your choice. I add a level teaspoon of mustard to the bowl.
Enjoy your meal!
Also Like
Comments for "Okroshka"