Okroshka "Garlic"
by Editorial Staff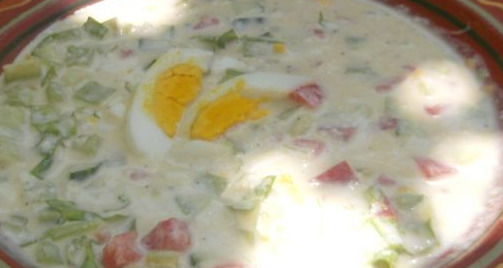 Sharp okroshka for a hot summer day!
Cook: 15 minutes
Servings: 3
Ingredients
Kefir – 0.5 l
Bulgarian pepper – 200 g
Tomatoes – 100 g
Cucumbers – 100 g
Eggs – 2 pcs.
Lettuce leaves – 2-3 pcs.
Mayonnaise – 80 g
Garlic – 3 cloves
Lemon (lemon juice) – 0.25-0.5 pcs.
Salt – 0.5 teaspoon
Ground black pepper – 0.25 teaspoon
Parsley (optional) – 1-2 sprigs
Directions
Wash the pepper, peel, and chop finely.
Wash the tomatoes and chop finely.
Also, wash and chop the cucumbers.
Finely chop the salad.
Crush the garlic in a garlic bowl, mix with mayonnaise, lemon juice, salt, and pepper.
Boil the eggs hard-boiled (cover with cold water, bring to a boil, and cook for 5 minutes). Peel, cut into wedges. Set aside a few wedges for decoration, finely chop the rest.
Combine all vegetables and eggs. Add dressing. Stir.

Fill with kefir.

Stir well and garnish with slices of hard-boiled egg or finely chopped parsley on top. Okroshka should be very thick.
Enjoy your meal!
Also Like
Comments for "Okroshka "Garlic""