Okroshka on Kvass
by Editorial Staff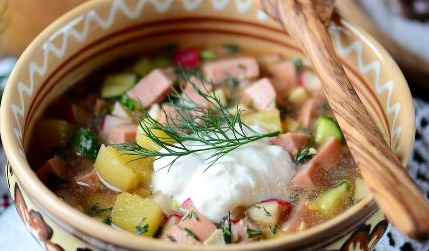 What could be tastier than homemade cold okroshka on a hot summer day ?! Cooking a refreshing classic okroshka with kvass, vegetables, and sausage.
Cook: 45 minutes
Servings: 4
Ingredients
Kvass (bread, for okroshka) – 0.5-0.7 l
Potatoes – 4 pcs.
Radish – 5-7 pcs.
Cucumbers – 2 pcs.
Chicken eggs – 3 pcs.
Boiled sausage (or boiled chicken, lean pork) – 200 g
Green onions – 3-4 pcs.
Dill greens – 0.5 bunch
Lemon juice (or vinegar) – to taste
Salt to taste
Ground black pepper – to taste
Sour cream (for serving) – to taste
How to cook okroshka on kvass:
Directions
Cut the sausage into cubes.
Cut the boiled potatoes into small cubes. Finely dice the radish and cucumber.
Add sausage and chopped egg white to the vegetables.

Chop green onions and dill finely. Add the crumbled egg yolk and a pinch of salt.
Pound the herbs, yolk, and salt with a wooden pestle until smooth.

Combine all the chopped okroshka ingredients, mix.
Pour in very cold kvass for okroshka. Add lemon juice or vinegar to taste, salt okroshka, pepper, stir again.
Serve okroshka on kvass cold, seasoning it with sour cream. You can add some ice cubes to the plate if you like.
Enjoy your meal!
Also Like
Comments for "Okroshka on Kvass"