Okroshka on Tanya, with Ice Kvass
by Editorial Staff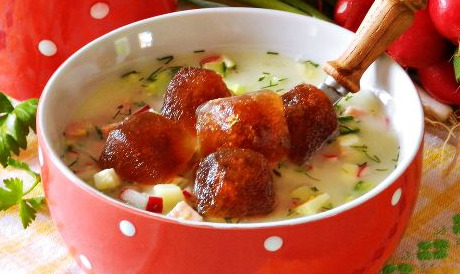 On hot summer days, you cannot do without delicious and aromatic okroshka. Ice cubes made of kvass will make okroshka even more refreshing and tasty.
Ingredients
Tan – 800 ml
Kvass – 150 ml
Potatoes – 3 pcs.
Cucumbers – 2 pcs.
Radish – 10 pcs.
Green onions – 3 pcs.
Ham – 250 g
Chicken eggs – 3 pcs.
Horseradish (seasoning) – 1 teaspoon
Mustard (seasoning) – 1 teaspoon
Salt to taste
Greens (dill and parsley) – to taste
How to cook okroshka on tan, with ice kvass:
Directions
Prepare ice kvass in advance. To do this, pour kvass into ice molds and put it in the freezer for 3 hours or longer.
Peel potatoes and eggs.
Cut into cubes.
Fold into a saucepan or other convenient container
Dice the radishes and cucumbers.
Transfer to a saucepan.

Cut the ham into cubes.
Add to the rest of the products.
Finely chop green onions, dill, and parsley.
Add greens to okroshka.
Mix.

Season okroshka with horseradish and mustard.
Stir gently, salt to taste.
Arrange okroshka on plates, pour over chilled tan.
Serve okroshka on tan with cubes of frozen kvass.
Enjoy your meal!
Also Like
Comments for "Okroshka on Tanya, with Ice Kvass"