Okroshka on Kvass, with Sprat in Tomato Sauce and Sausage
by Editorial Staff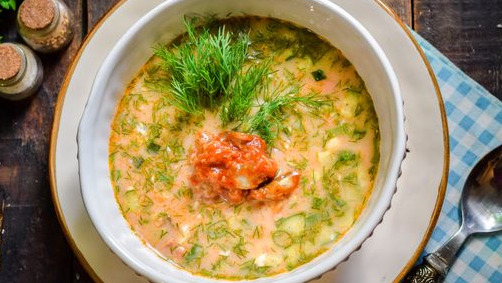 Okroshka with sprat in tomato sauce and sausage is an unusual and original version of cold soup, which comes out quite interesting. Initially, we make the preparation of the usual classic okroshka, but after that, already on the plate, we add sprat in tomato sauce, sour cream, and kvass.
Cook: 45 minutes
Servings: 4
Ingredients
Sprat in tomato sauce – 240 g
Potatoes – 300 g
Boiled sausage – 200 g
Cucumbers – 200 g
Eggs – 3 pcs.
Green onions – 20 g
Fresh dill – 20 g
Sour cream – 120 g
Salt to taste
Ground black pepper – to taste
Kvass – to taste
Directions
Boil the potatoes until tender (within 25 minutes) and cool. Also, boil the eggs hard-boiled (within 10 minutes after boiling) and cool completely in cold water. Peel cooled potatoes and eggs.
Cut the potatoes into small cubes and place in a deep bowl or saucepan.
Then cut the eggs into small cubes and add to the potatoes.
Cut fresh cucumbers into small cubes and put them in the same place.
Cut the sausage into small cubes and add to the container.
Finely chop fresh fragrant herbs and add to all chopped ingredients.
Mix well. Prepare serving plates.

Put a little prepared preparation for okroshka in each plate, add a few tablespoons of sprat in tomato sauce, add salt and black pepper.
Then add sour cream.

Pour the ingredients with kvass and mix. Remove sample and adjust the taste.
Enjoy your meal!
Also Like
Comments for "Okroshka on Kvass, with Sprat in Tomato Sauce and Sausage"