Okroshka on Kvass, with Sausages
by Editorial Staff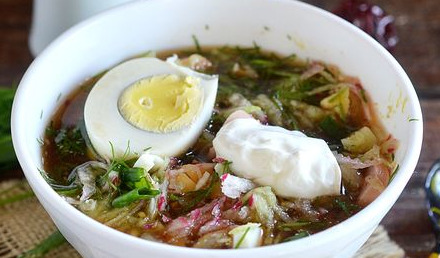 I bring to your attention a recipe for okroshka, in which we replace the classic sausage with sausages. The great first course for hot weather.
Cook: 40 minutes
Servings: 1
Ingredients
Potatoes – 1 pc.
Egg – 1 pc.
Radish – 2 pcs.
Fresh cucumber – 1 pc.
Sausages – 1 pc.
Green onion – 3 feathers
Fresh dill – 4 branches
Mustard – 1/3 teaspoon
Sour cream – 1 teaspoon
Salt to taste
Kvass – 150 ml
Directions
Peel the cucumber. Grate the cucumber and radish on a coarse grater.
Finely chop the onion and dill.
Mix everything in a bowl.

Boil the potatoes and egg for 20 minutes after boiling the water. Then refrigerate and clean.
Cut the potatoes and half the egg into cubes.
Peel the sausage if necessary and cut into thin slices.
Combine all ingredients in a bowl, add mustard and salt.

Pour in kvass.
Serve with sour cream and half an egg.
Enjoy your meal!
Also Like
Comments for "Okroshka on Kvass, with Sausages"