Okroshka with Kvass and Ayran
by Editorial Staff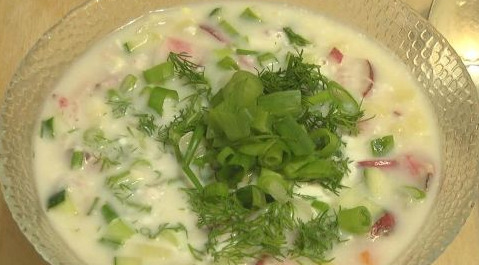 In such heat as this summer, there is nothing better than cold, nourishing, and tasty okroshka. In this case, you do not need to stand for hours at a hot stove. I propose a recipe for okroshka on kvass, and the second recipe is okroshka on ayran (or kefir).
Cook: 40 minutes
Servings: 7
Ingredients
Kvass (draft)
Ayran (or kefir with water)
Meat (carbonate, boiled beef or chicken, ham, boiled sausage, smoked meats) – 200-300 g
Eggs – 4 pcs.
Potatoes – 2-4 pcs. (depending on size)
Carrots – 1 pc. (average)
Radish – 250 g
Fresh cucumbers – 4 pcs. (medium)
Bulb onions – 1-2 pcs.
Garlic – 1-3 cloves
Green onions – 1 bunch
Fresh dill – 1 bunch
Mustard – to taste
Sour cream – to taste
Salt to taste
Directions
Boil carrots and potatoes. Cook carrots for 10 minutes, potatoes for 20 minutes.
Cook the eggs hard-boiled.
Peel the onion and chop very finely.
I highly recommend rinsing the chopped onion under running cold water and squeezing a little to make the onion less bitter and less pronounced.
Peel the potatoes and cut them into small cubes.
Cut the cucumbers in the same way as potatoes.
We also cut the radish into small cubes.
Peel and chop the carrots in the same way as the rest of the ingredients.
We also cut the meat.
Peel the eggs and chop finely with a knife.
Chop the peeled garlic very finely.
The ingredients for okroshka are prepared.
We combine them in a deep bowl, mix. Important: do not salt the preparation for okroshka after mixing! The workpiece can be stored in the refrigerator for 3-4 days.

Finely chop the dill.
Finely chop the green onion.
Pour the blank for okroshka into a deep plate. Salt and mix.

We fill with kvass.
Add a spoonful of sour cream and a little mustard, mix. Sprinkle with green onions and dill. Okroshka on kvass is ready!
The second option for okroshka is to fill the preparation in a plate with ayran, add a little mustard and a couple of tablespoons of sour cream. Sprinkle with dill and green onions. Okroshka on ayran is ready!
Enjoy your meal!
Also Like
Comments for "Okroshka with Kvass and Ayran"