Okroshka on Kvass
by Editorial Staff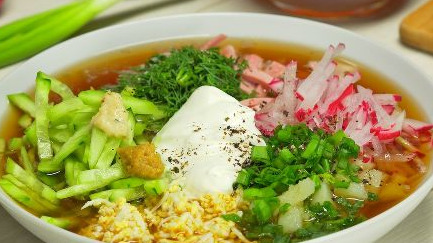 Okroshka stands out among the famous dishes of Russian cuisine. Thanks to the variety of vegetables, herbs, and meat products that make up okroshka, as well as real Russian live fermented kvass, this cold soup gets the very individual taste that only real okroshka has.
Servings: 5
Ingredients
Kvass – 1 l
Sausage – 400 g
Boiled eggs – 5 pcs.
Boiled potatoes, large – 2 pcs.
Radish – 5 pcs.
Fresh cucumbers – 4 pcs.
Green onions – 15 g
Fresh dill – 15 g
Sour cream – 100 g
Horseradish – to taste
Mustard – to taste
Sugar to taste
Salt to taste
Ground black pepper – to taste
How to cook okroshka on kvass:
Directions
Boil potatoes in their skins, cool, and peel. Hard-boiled eggs, cool and peel. Peel the cucumbers, cut into small strips.
Cut the radish into small strips.
Cut the sausage or meat into strips.
Grate boiled eggs on a fine grater.
Cut the boiled potatoes into cubes.
Finely chop the dill.
Finely chop the green onion.
Put 2 tablespoons in a serving plate. spoons of prepared foods: potatoes, cucumbers, sausages, and eggs. Add 1 tablespoon. a spoonful of green onions and dill. Pour kvass.

Add 1 tablespoon on top. a spoonful of sour cream, horseradish, mustard, salt, pepper, and sugar to taste. Okroshka on kvass is ready.
Enjoy your meal!
Also Like
Comments for "Okroshka on Kvass"