Homemade Lemon Kvass
by Editorial Staff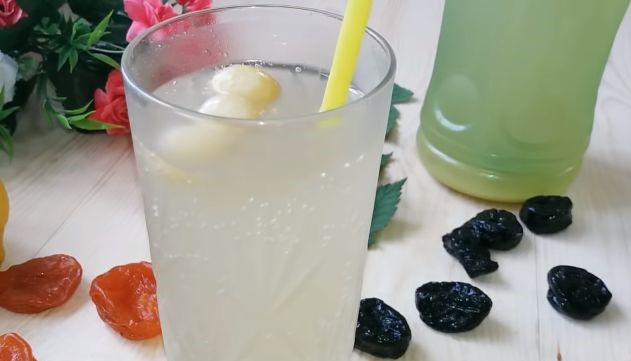 Homemade kvass without bread and rusks – fragrant, sparkling, incredibly refreshing on a hot day. Making lemon kvass is easy, all products are available. Try it. I think you will like it.
Ingredients
Lemon – 0.5 pcs.
Currant (or mint) leaves – 5-6 pcs.
Honey – 300 g
Dry yeast – 3-4 g
Raisins – 6-10 pcs.
Water – 3 l
Directions
Pour 3 litres of water into a saucepan, add currant leaves (can be replaced with fresh or dried mint). Squeeze out the juice of half a lemon and cut off a few slices of lemon along with the zest for more flavour. (You can also add some ginger as well.)
When the water boils, let it boil for two minutes.
Cool to a warm state (30-36 degrees). It is convenient to place the pot in a bowl of cold water, so it will take less time. Add honey to cooled water and stir until completely dissolved. If honey is added to hot water, then it will lose some of its beneficial properties.
To taste. If there is not enough lemon, add more. You can also adjust the sweetness.
Pour in yeast.
Cover and leave for 2-3 hours.
Strain and bottle with unwashed raisins (I add 3-4 raisins to each 1.5-litre bottle). Close the bottles tightly with lids and refrigerate for 5-6 hours.
After that, you can drink homemade kvass. And after 2 days, lemon kvass will become even more sparkling and richer.
Enjoy cooking!
Also Like
Comments for "Homemade Lemon Kvass"