Okroshka on Kvass, with Mushrooms, Beets and Cucumbers
by Editorial Staff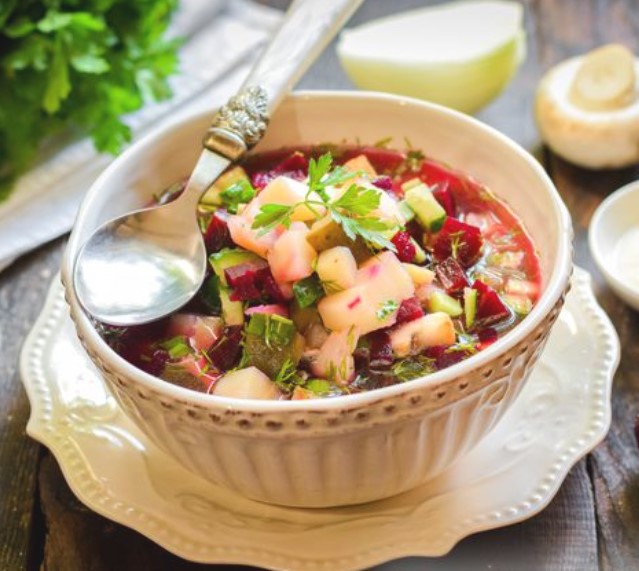 Okroshka on kvass, with mushrooms, beets and fresh and pickled cucumbers – this is a rather original option for making lunch more varied and delicious. Cooking okroshka is simple, the taste is not classic.
Cook: 2 hours 30 mins
Servings: 4
Ingredients
Champignons – 250 g
Beets – 200 g
Potatoes – 150 g
Fresh cucumbers – 100 g
Pickled cucumbers – 100 g
Fresh dill – 10 g
Green onions – 10 g
Salt to taste
Ground black pepper – to taste
Vegetable oil – 2 tbsp
Sour cream (for serving, optional) – to taste
White kvass – 1 l
Directions
Prepare all required ingredients. Kvass can be taken regular or white, in my case the second option is used.

Wash the beets and potatoes and transfer to a saucepan.
Pour warm water into a saucepan to cover the vegetables well.
Transfer the pot to the fire, bring the water to a boil. Cook the potatoes for 20-25 minutes and then remove from the pan. Cook the beets for 1.5 hours. Willingness to check with a fork or knife.
Cool and peel the finished vegetables.
Cut potatoes and beets into small cubes.
Cut fresh and pickled cucumbers into small cubes.
Cut the champignons into plates or cubes.
Heat vegetable oil in a frying pan, put mushrooms and fry Put chopped potatoes, beets and cucumbers into a saucepan.
Cool the mushrooms a little and transfer to a saucepan with vegetables.

Finely chop the fresh herbs and add to the saucepan.
Then pour all the ingredients with cold kvass, add salt and black pepper to taste, remove a sample.
Send the pot to the refrigerator for 1 hour.
Serve okroshka cold, adding sour cream if desired. It turned out very appetizing and tasty.

Good appetite!
Also Like
Comments for "Okroshka on Kvass, with Mushrooms, Beets and Cucumbers"