Okroshka on Mushroom Broth with Kvass
by Editorial Staff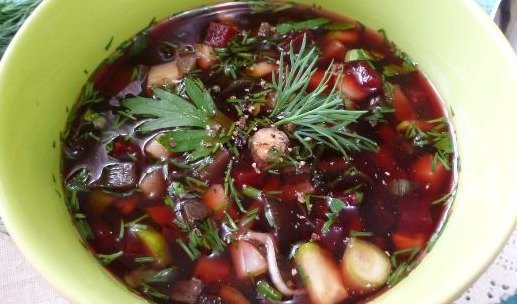 In the summer, in the heat, we are used to eating okroshka. And try to cook okroshka with kvass and mushroom broth. I am sure you will like the vegetable okroshka with mushrooms. This recipe is completely vegetarian, there are no meat products or eggs. But, if desired, cold mushroom soup can be seasoned with sour cream.
Cook: 1 hour
Ingredients
Bread kvass – 300 ml
Dried mushrooms (I have mushrooms and boletus mushrooms) – 70 g
Boiled beets – 1 pc.
Boiled potatoes – 2 pcs.
Fresh cucumbers – 1 pc.
Pickled cucumbers – 1-2 pcs.
Green onions – 3 pcs.
Fresh dill – 3 branches
Fresh parsley – 3 sprigs
Salt to taste
Black pepper – to taste
Horseradish (seasoning) – 1 teaspoon or to taste
Citric acid or lemon juice (optional) – to taste
Sour cream (optional) – to taste
How to cook okroshka in a mushroom broth with kvass:
Directions
Rinse dry mushrooms well, cover with water, leave for a couple of hours, then boil until soft.
Place the mushrooms in a colander to drain the liquid.
Strain the mushroom broth through a strainer (you can add through several layers of gauze). Refrigerate.
Now we collect okroshka. Cut a fresh cucumber into strips.
Also, cut the pickled cucumber. (There should be about the same amount of pickled and fresh cucumbers.)
Dice the boiled potatoes.
Grind boiled beets in the same way.
Chop the boiled mushrooms.

Chop all the herbs and add them to a bowl.
Pour in bread kvass and chilled mushroom broth. There are no strict proportions, it all depends on your preferences.

Add horseradish to cold mushroom soup. Season with salt and pepper. If you like sour, then you can add citric acid or lemon juice.
Enjoy your meal!
Also Like
Comments for "Okroshka on Mushroom Broth with Kvass"