Okroshka on Kvass
by Editorial Staff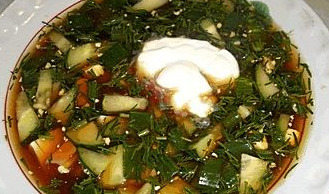 The "classic" version of okroshka is okroshka with kvass. True, there are also recipes using whey, mineral water, plain water with the addition of citric acid. All these methods have been repeatedly tested by us. Of all the above options, okroshka with kvass is, in my opinion, the most delicious.
Ingredients
Kvass (not sweet) – 2.5 l
Medium potatoes – 5 pcs.
Egg – 4 pcs.
Medium cucumbers – 2 pcs.
Sausage (boiled low-fat) – 300-400 g
Radish (optional) – 4-5 pcs.
Greens of onions and dill
Sour cream
How to cook okroshka on kvass:
Directions
The first step is to cook eggs and potatoes. Cook eggs hard-boiled, about 10 minutes. Potatoes – "in their uniform." In the meantime, they are boiling, we are cutting the remaining components. Everything is cut like a salad. Sausage – in small cubes.
Cucumbers are slightly thinner.
Finely chop the dill and onion
Peel the boiled eggs and potatoes from the shell and peel and cut it in the same way.
Pour all the chopped food into a saucepan.
Salt to taste, stir and add kvass.
Enjoy your meal!
Also Like
Comments for "Okroshka on Kvass"