Okroshka
by Editorial Staff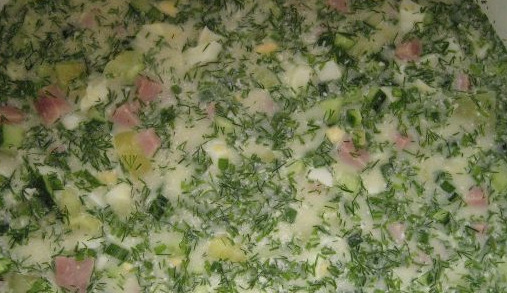 Delicious okroshka. The recipe is simple – do it and you won't regret it.
Ingredients
1-liter homemade whey
3-4 tbsp mayonnaise
3-4 potatoes
4 cucumbers
4-5 eggs
1 bunch of green onions
1 bunch of dill
600 g ham sausage
salt
pepper
How to cook okroshka:
Directions
Boil potatoes and eggs.
Then cut the eggs, potatoes, cucumbers, and sausage into cubes. Chop green onions and dill. Mix all ingredients.
Mix the whey and mayonnaise separately and pour over all of our chopped products. Season with salt, pepper and put okroshka in the refrigerator.
Good appetite!
Also Like
Comments for "Okroshka"