Okroshka on Kefir
by Editorial Staff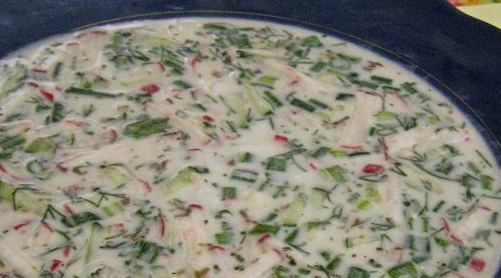 Okroshka made with kvass is very popular. Less known is okroshka on kefir, the recipe for which is widespread in the Baltic States, Belarus, Poland. Meanwhile, this is a very tasty and healthy okroshka, the recipe for kefir is as simple as the classic recipe for okroshka with kvass.
Cook: 20 minutes
Servings: 6
Ingredients
Kefir – 600-800 g
Radish – 10 pcs.
Cucumbers – 2-3 pcs.
Boiled eggs – 2-3 pcs.
Green onions – 1 bunch
Dill greens – 3-4 branches
Garlic – 2 cloves (to taste)
Lettuce leaves (optional) – 2-3 pcs.
Grated horseradish (optional) – 1 teaspoon
Sugar – 1 tbsp
Salt – 1 teaspoon
Ground black pepper – 0.5 teaspoon
Vinegar 3% – 1 tbsp
Seasoning "Italian herbs" (optional) – 1 teaspoon
How to cook okroshka on kefir:
Directions
Cut the radish into thin strips.
Chop the cucumbers into strips too.
Finely chop a small bunch of green onions. You can also chop green lettuce if desired.
Chop the dill.
Hard-boiled eggs, cool, peel and finely chop.
Peel the garlic and pass through a press.
Put it all in a saucepan and add sugar, salt, ground pepper, and vinegar. You can also add grated horseradish.

Mix everything.
Combine 600-800 g of kefir with 300-400 g of cold boiled water, mix well. Add a mixture of dried Italian herbs (optional).
Pour the chopped vegetables with the prepared mixture of kefir and water.
Chill okroshka well before serving. You can serve hot boiled potatoes with okroshka. In hot weather, such okroshka on kefir with potatoes can replace both the first and the second course.
Enjoy your meal!
Also Like
Comments for "Okroshka on Kefir"