Okroshka on Kefir and Carbonated Water
by Editorial Staff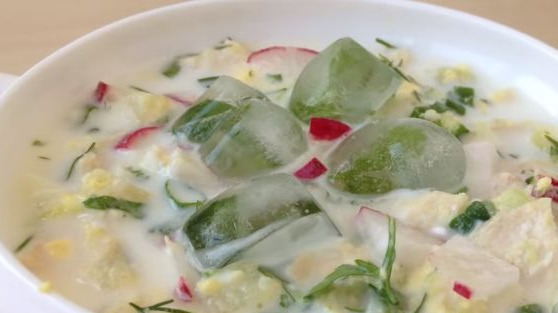 Okroshka with kefir and soda is very tasty and refreshing. This recipe is often used in restaurants.
Ingredients
Chicken fillet (breast) – 1 pc.
Eggs – 2 pcs.
Potatoes – 3 pcs.
Cucumbers – 4 pcs.
Radish – 5 pcs.
Dill greens
Parsley
Green onion
Kefir – 1 l
Soda – 0.75-1 L
How to cook okroshka with kefir and carbonated water:
Directions
Cut the chicken into not very small cubes.
Grind the potatoes in the same way and mix with the meat.
Cut one egg into cubes, and rub the second on a fine grater.
Cut off the edges of cucumbers and cut half into cubes.
Rub the other half on a fine grater.
Cut the radish into 4 pieces and cut into thin slices.
Grind the greens. We combine all the ingredients and salt to taste. We mix.
Pour water into kefir (1: 1 or to taste). We mix.
We spread the chopped ingredients and fill with kefir. Add ice to the plate. Okroshka with kefir is ready.
Enjoy your meal!
Also Like
Comments for "Okroshka on Kefir and Carbonated Water"