Okroshka on Kefir, with Young Cabbage
by Editorial Staff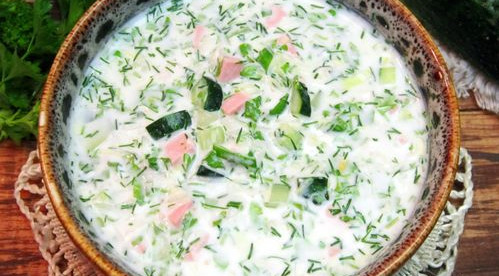 According to this recipe, okroshka is cooked with kefir with the addition of young cabbage – fresh, juicy, and appetizing in summer. Horseradish root gives a slight piquancy, and the rest of the ingredients make the dish hearty and tasty.
Servings: 6
Ingredients
Potatoes – 200 g
Boiled sausage – 300 g
Young cabbage – 100 g
Fresh cucumbers – 170 g
Eggs – 3 pcs.
Green onions – 40 g
Dill – 30 g
Parsley – 30 g
Horseradish root – 30-40 g
Salt to taste
Kefir – 1 l
Water – 200 ml
Directions
Boil the peeled potatoes until tender for about 30 minutes, then leave to cool.
Boil the eggs hard-boiled for about 10 minutes and cool in cold water.
Cut the sausage into cubes.
Cut the cucumbers into cubes. Chop the cabbage into strips, which we cut into several more pieces.
Peel the potatoes and cut them into cubes. We clean the eggs, separate the yolks from the whites. Cut the proteins into cubes.
Finely chop the green onion and parsley.
We clean the horseradish root and rub it on a medium grater.
Combine egg yolks, chopped horseradish root, chopped dill, and a pinch of salt in a bowl.
Grind everything with a fork (or a potato crush) into a homogeneous mass.

Put potatoes, sausage, cabbage, cucumbers, egg whites, and green onions in a saucepan. Add the gas station.
Mix kefir with water and pour the contents of the pan.

Stir and salt to taste. It is advisable to leave okroshka in the refrigerator for 30-60 minutes, so that horseradish "reveals" its taste better.
Enjoy your meal!
Also Like
Comments for "Okroshka on Kefir, with Young Cabbage"