Okroshka on Kefir
by Editorial Staff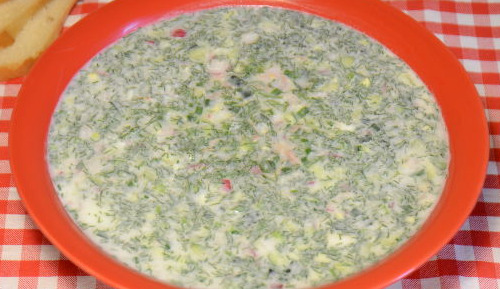 In the summer heat, when there is no appetite, okroshka will save you. To make okroshka tasty, the main ingredients must be taken in equal proportions
Servings: 2
Ingredients
Boiled eggs – 100 g
Boiled potatoes – 100 g
Boiled veal – 100 g
Fresh cucumber – 100 g
Fresh radish – 100 g
Green onions – 30 g
Fresh parsley – 20 g
Fresh dill – 20 g
Kefir – 200 ml
Sour cream – 2 tbsp
Carbonated water – 300 ml
Mustard – 1 teaspoon
Salt to taste
How to cook okroshka on kefir:
Directions
Hard-boiled eggs. Boil potatoes in their skins. Cook the veal until tender. Cut everything into cubes.
Also, cut the radishes and cucumbers into cubes. If necessary, cut off the skin of the cucumbers.
Wash greens and chop finely.
Pour all chopped ingredients into one bowl.

Add kefir and sour cream. Mix okroshka well.
Before serving, add soda, salt, and mustard to okroshka on kefir. They eat okroshka chilled.
Enjoy your meal!
Also Like
Comments for "Okroshka on Kefir"