Azerbaijani Soup "Ovdukh" (Okroshka on Kefir)
by Editorial Staff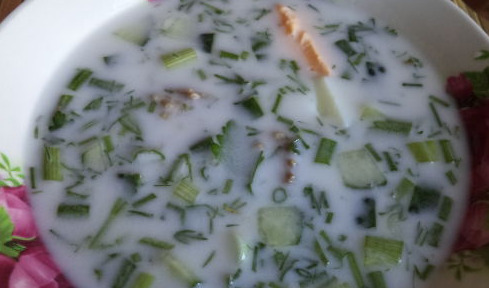 Ovduh (okroshka) is especially good in the hot Azerbaijani summer. This is a refreshing but hearty cold kefir soup. This recipe for okroshka is with boiled beef.
Cook: 2 hour
Servings: 4
Ingredients
Kefir – 0.5 l
Fresh cucumbers – 2 pcs.
Beef – 300 g
Eggs – 1 pc.
Green onions – 1 bunch (to taste)
Dill greens – 0.5 bunch (to taste)
Cilantro greens – 0.5 bunch (to taste)
Salt – 1 teaspoon (to taste)
Water – 0.5 l
How to cook soup "Ovdukh" (okroshka on the kefir in Azerbaijani):
Directions
Wash the meat, put it in a saucepan.
Pour the meat over with water, bring to a boil, cook over low heat, covered, until tender (about 90 minutes). Refrigerate.
Put the egg in a saucepan, cover with cold water, put on fire, bring to a boil. Cook over medium heat for 10 minutes. Drain the boiling water, fill it with cold water. Refrigerate the egg.
Whisk kefir and dilute it with chilled water. Stir.
Cut the meat into small pieces.

Peel the egg cut into slices.
Wash, chop green onions.
Wash cucumbers, cut into cubes.
Wash, chop dill and cilantro.
Mix all products with kefir and salt.
Enjoy your meal!
Also Like
Comments for "Azerbaijani Soup "Ovdukh" (Okroshka on Kefir)"