Azerbaijani Baklava
by Editorial Staff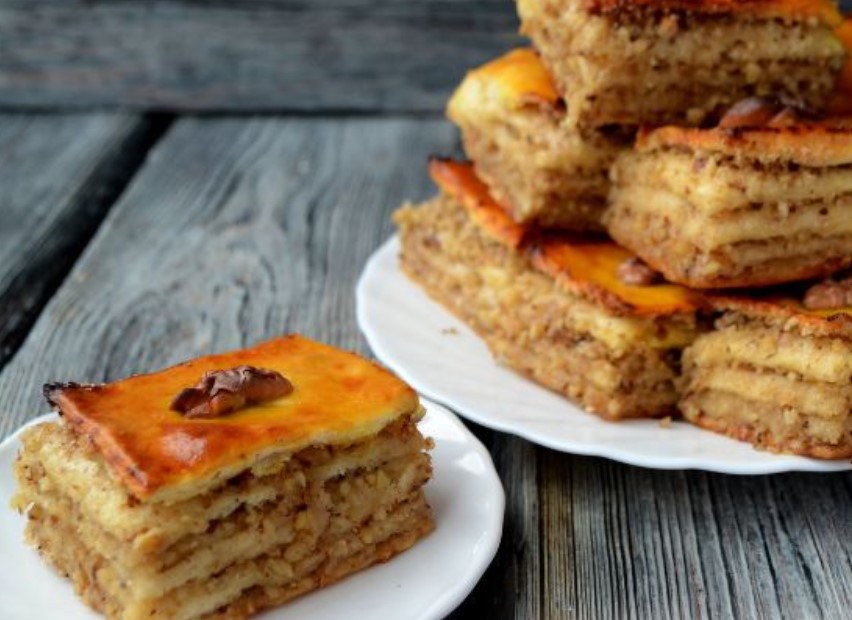 This recipe for baklava made from yeast dough is taken from the postcards of the Soviet era "Azerbaijan Cuisine". The dough is soft and airy, and the nut filling is sweet and juicy. Your family will love this oriental dessert.
Ingredients
For the dough:
Flour – 450 g
Butter – 120 g
Milk – 150 ml
Salt – 1 pinch
Fresh yeast – 20 g
Vanillin – on the tip of a knife
Egg – 2 pcs.
For filling:
Walnuts – 400 g
White sugar – 400 g
Butter – 60 g
For decoration:
Walnuts – 4 pcs.
Egg yolk – 1 pc.
Turmeric or saffron – ¼ teaspoon
Milk – 1 tbsp
Honey – 20 g
Directions
Prepare all ingredients for making yeast dough.
Dissolve the yeast and salt in warm milk heated in a microwave oven, stir until the yeast dissolves.

Add eggs and melted or very soft margarine to the future dough.
In a bowl with milk and yeast, gradually add the flour mixed with vanilla, and knead the soft dough that is loose from your hands. Cover the bowl with the dough with a towel and leave in a warm place to rise for 1-1.5 hours. After this time, the dough will rise 2-3 times. Wrap it up and continue working on the baklava.
Prepare the ingredients for the filling.
Pass the nuts through a meat grinder or chop in a blender and mix with sugar. There will be a lot of fillings, like dough, so you can cook 2 baklava. (Further, the photo recipe will show how to make baklava from half the dough and filling.)
Cover the baking sheet with parchment paper, grease with oil. Divide half of the dough into four equal parts and roll each into a rectangle 0.3-0.4 cm thick. Put the rectangle on a sheet.
Brush a rectangle with softened butter and add a third of the nut filling.
Cover with the next layer of dough, lay out the filling and so on 3-4 more layers.
To grease the top crust, mix the saffron or turmeric with milk and yolk.
Using a cooking brush, apply the mixture, cut the baklava into diamonds and place a quarter of a walnut on each diamond. Let the dough rise for about 20 minutes.

Bake in a preheated oven for 30-35 minutes at 180 degrees. Glaze the baklava on top with honey 10 minutes before cooking.
Cool the Azerbaijani baklava a little and set the table.
Bon Appetit!
Also Like
Comments for "Azerbaijani Baklava"