Baklava in the Form of Rolls
by Editorial Staff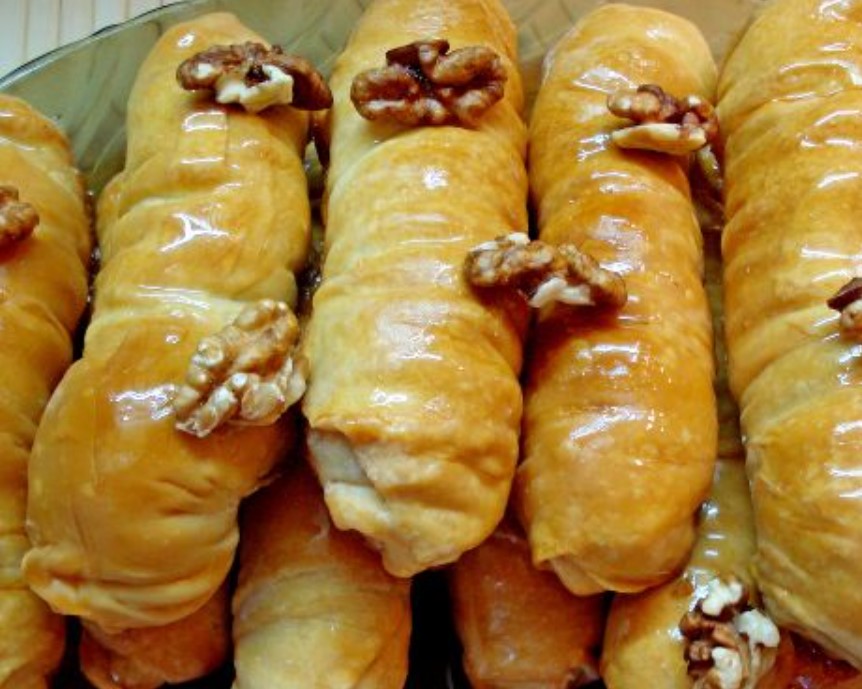 If you try baklava at least once, then in the future its name will always remind you of the wonderful taste and aroma of this oriental sweetness. Treat yourself and your loved ones, prepare homemade baklava in the form of rolls – from the fine cook:st dough, with honey-lemon syrup and nuts.
Ingredients
For the dough:
Flour – about 250 g
Milk – 100 ml
Egg – 1 pc.
Butter, softened – 25 g
Salt – a pinch
To grease the dough:
Butter – 75 g
Egg yolk – 1 pc.
For filling:
Walnuts – 120 g
Powdered sugar – 75 g
Ground cinnamon – 0.5 teaspoon
For syrup:
Sugar – 100 g
Water – 100 ml
Honey – 1 tbsp
Lemon juice – 1 teaspoon
Directions
Products for the test.

Filling products
Products for greasing the dough.
Syrup products
Knead the dough with the specified ingredients.
Knead the dough until it is smooth and elastic. Let the dough rest for 20 minutes.

Then make 10 small koloboks.
Grind the walnuts, but not completely into crumbs. Put them in one bowl with cinnamon and powdered sugar. Mix.
Roll out the koloboks as thinly as possible.
Melt the butter, grease the rolled dough with it
Put the nut filling in a thin layer on half or even most of the greased layer.Wrap the entire layer of dough stuffed in the form of a roll-roll onto a thin stick. Squeeze the edges of the tube slightly towards the center.
Remove the stick, and put the straw on a baking sheet, which is covered with parchment or a silicone mat. Mix the yolk with a spoonful of water, grease with baklava. Place in a preheated oven. At 200 degrees, baklava in the form of rolls should be baked for 10 minutes. Then reduce the temperature to 160 degrees, grease the tubes again – with the remaining butter. Bake the baklava for another 45 minutes

Boil sugar and water for 5 minutes.
Add honey and lemon juice, stir.
Soak the finished baklava with hot syrup. Now the baklava in the form of rolls should stand for 4 hours.
Bon Appetit!
Also Like
Comments for "Baklava in the Form of Rolls"