Baklava Roll with Seeds
by Editorial Staff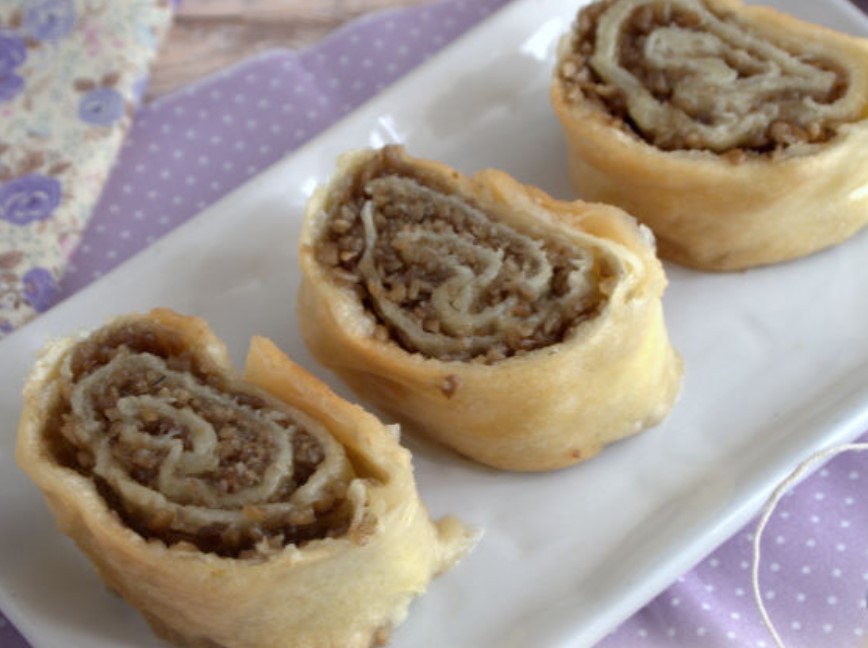 Baklava roll with seeds is a simple, very appetizing and bright oriental dessert that even a young housewife can make. Thanks to honey syrup, the roll is sweet, very aromatic and slightly moist.
Serving: 6
Ingredients
Puff pastry (ready-made, defrosted) – 300 g
Sugar – 140 g (70 g each for syrup and filling)
Sunflower seeds – 200 g
Butter – 50 g
Honey – 1 tbsp
Water – 100 ml
Directions
Preparing the filling: send the seeds to the oven (150 ° C) for 20-25 minutes. Then grind in a blender
Add sugar, mix the ingredients
Roll out the dough into a thin layer.
We cover the flaky workpiece with melted butter
We spread the seeds on the dough, carefully distributing them around the entire peri. We leave the edge (3-4 cm) on each side.

We wrap the edges of the baklava and roll it up.
We make portioned cuts on the roll and send it to the oven (200 ° C), wait 22-25 minutes.
Bring the mixture to a boil.
We spread the finished baklava with seeds on a dish.
Pour with syrup, leave for 10-12 minutes. Soak the roll again with sweet syrup.

Leave the baklava roll with seeds for 1-2 hours.
We serve oriental dessert at any time.
Bon appetit!
Also Like
Comments for "Baklava Roll with Seeds"