Greek Baklava
by Editorial Staff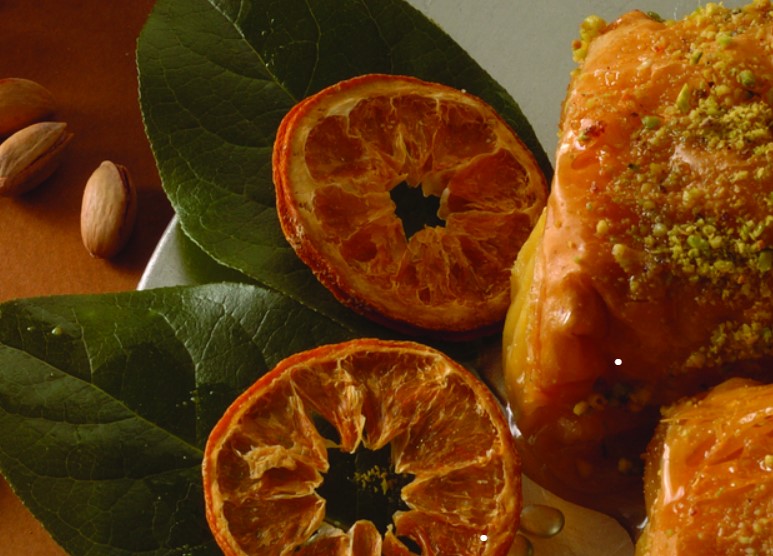 Greek baklava according to this recipe resembles delicious sweets soaked in honey-creamy syrup, which leave behind a sweet, dreamy aftertaste … Following our advice and step-by-step recommendations, you can easily create this masterpiece, no worse than the original, at home.
Ingredients
Puff pastry 500 – grams The thinnest sheets of pastry – 1 package
Walnut 300 – grams
Pistachios 50 – grams
Butter 250 – grams
Sugar 300 – grams
Water 200 – grams
Natural honey 250 – grams
Lemon juice 0.5 – PC. juice of half a lemon
Directions
Place two sheets of very thin dough on top of each other. Take one metal knitting needle or any other thin rod with which you can wrap about 10 cm from the edge of the sheets on one side. Fold the leaves over a knitting needle and wrap as shown in the photo. In principle, it is not necessary to use a rod, this is for convenience. If it is more convenient for you to do it differently, no question.
Now sprinkle the leaf with a handful of walnuts, but not over the entire surface, but, as you can see in the photo, not reaching the top end. In addition to walnuts, you can also add almonds, cashews – whatever you want.

Without removing the knitting needle, roll the sheet into a tight roll.
Now assemble this roll into an accordion by pushing both ends of the dough towards each other.
Do the same with the rest of the thin dough sheets to use all the dough in the package.
Place all these rolls in a convenient high-rimmed baking dish. And with a sharp knife, cut the rolls into small separate "sweets", about 5-6 cm wide.
Melt the butter and pour them over the future sweetness so that the butter is evenly distributed.
Set aside for a short time, for 10-15 minutes, so that the dough is soaked in oil, and put all this in the oven, preheated to 150 degrees for 2 hours.
Now start making the honey syrup while the baklava is baking in the oven. Mix sugar, honey, water and lemon juice, bring to a boil and after the syrup boils, boil it for another 2 minutes. Then set the sweet syrup for 15 minutes in a cool place and let it cool, but not completely. Warm syrup should be poured over not very hot, warm pastries.

When the baklava is well saturated with syrup, grind the baklava with chopped pistachios on top.
Bon appetit!
Also Like
Comments for "Greek Baklava"