Lazy Puff Pastry Baklava
by Editorial Staff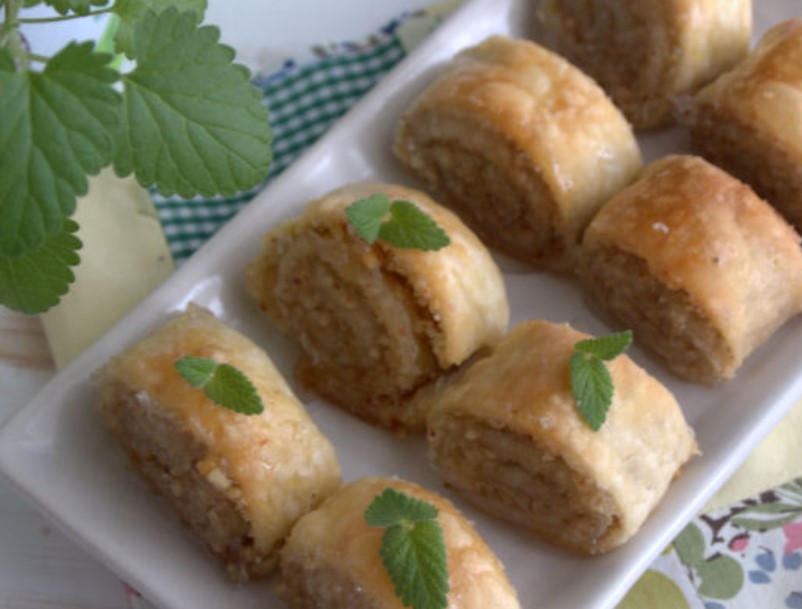 Juicy, moderately sweet and very tasty baklava. This recipe will delight even the busiest housewives. A minimum of components, an hour of free time – and you can enjoy a piece of fragrant nut baked goods.
Ingredients
Yeast-free puff pastry – 400 g
Walnuts – 250 g
Sugar – 300 g
Water – 100 ml
Directions
We prepare products for nut baklava from puff pastry.
Divide the defrosted puff pastry into 2 parts and roll each into a thin layer.
Grind the nuts.
We spread the nuts on the rolled dough, trying to distribute them evenly over the entire surface.

Sprinkle with sugar (150 g).
Roll the dough with nuts into a roll, cut into pieces.
We spread the puff rolls with nuts in a deep form, send them to the oven, preheated to 200 degrees, for 25-30 minutes.
We make sugar syrup: bring water to a boil, dissolve 150 g of sugar in it.
We take out the rolls from the oven.
Pour hot sugar syrup on the finished puff pastry rolls with nuts.

We are waiting for 25-30 minutes. During this time, the nut baklava is saturated with syrup, becomes moist and juicy.
Enjoy "lazy" flaky baklava at any time.
Bon appetit!
Also Like
Comments for "Lazy Puff Pastry Baklava"