Baklava
by Editorial Staff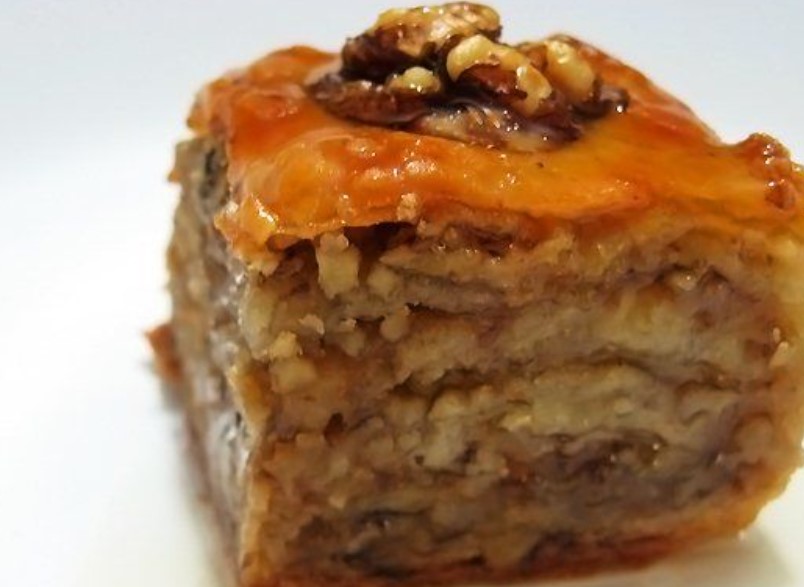 I ate baklava many times, but from others, but I myself did not try to cook … Finally, I made it! Such a taste-oo-oo-oozy turned out! The husband said that he had never eaten this baklava tastier!
Ingredients
DOUGH:
Flour – 500 g
Egg – 2 pcs.
Sour cream – 150 g
Milk – 150 g
Butter – 50 g
Yeast – half a pack of dry (5-6 g) or 15 g fresh
Salt – a pinch
Sugar – 1 teaspoon
FILLING:
Walnuts – 250 g
Powdered sugar – 250 g
Butter – 250 g
Cardamom – 0.5 teaspoon (I didn't add it because I don't have it)
Cinnamon – 1 teaspoon (I didn't add, I don't like)
Vanilla
TOP:
Beaten egg – 1 pc.
Walnuts (halves)
SYRUP:
Honey – 150 g
Hot water – 90-100 ml
Directions
Prepare baklava dough. First you need to warm up the milk so that it is warm, add yeast and sugar there, stir and let the yeast "come to life" so that it rises with a hat
In another bowl, combine flour, butter, eggs, sour cream and salt. Stir lightly.

Then we add our "revived" yeast to this mixture.
Stir.
Stir well. Now put this mass on a lightly floured table and knead the soft dough well.
Here is the dough.
Now we put the dough in a cup and put it in the heat for 1-1.5 hours (cover the dough with a towel).
The dough should work well.
While the baklava dough is good, let's make the filling. The filling will be even tastier and the taste will be richer if the nuts are roasted a little in the oven. Pass the nuts through a meat grinder or, like me, roll them with a rolling pin (do not grind in a blender in any case – it will turn out too small and the taste will not be the same). Mix chopped nuts with vanilla and powdered sugar (if you like, add cardamom and cinnamon).
We grease the form with vegetable (or other) oil (I have a form measuring 24×29 cm, you can take a little more, but always with sides, the baking sheet will not work. ).
Divide the matched dough into 12 parts, one of which should be 2 times larger than the others.
Now we take this large piece and roll it out in such a way that it covers the bottom and sides of our form, and hangs down a little more … I want to say a little about the dough. The dough is soft, elastic, similar to that of strudel, and rolls out very well. And we will need to roll it out very thinly, about 1 mm thick or even thinner, but not thicker, otherwise the baklava will be rough, tough.
Now we wind the dough on a rolling pin and transfer it to the mold.
And literally we line them our form. Let the edges of the dough hang down (then cut it off) …
Now let's melt the butter.
And grease the dough with it (smear the butter with a thin layer, try to calculate so that after lubricating all the layers we have about half, or a little less than half of this oil, otherwise the baklava will turn out to be too greasy. If the oil cools quickly and does not smear well, heat it up).
Now we will roll out the next layer, but already to the size of the bottom of our shape. If the dough when rolling out turned out to be thicker than 1 mm, then roll it out thinner, and remove the excess (although this should not be so). We transfer it in the same way, on a rolling pin, and cover the bottom. As you can see, we did not pour the filling on the first layer, because bottom and top, we should have 2 layers of dough without filling (this is for strength, otherwise they may crumble after baking).
We also grease the second layer of dough with a thin layer of butter and now sprinkle with the filling (pour the fillings so that it is enough for 10 layers).
And in this way: rolled out, laid, greased, sprinkled – it is repeated 9 more times (10 times in total). This is what the 10th layer looks like – oiled and sprinkled (that's it, there is no more filling, but about half or a little less oil should remain, we will need it again later).

Now we roll out the 11th piece of dough and cover the 10th layer with it. Lubricate the 11th layer with oil.
Cut the overhanging edges of the dough with a knife so that the edge remains about 1-2 cm.
Place the edges on the dough.
And grease the edges with a beaten egg.
Now we roll out the last 12th piece of dough and cover the 11th layer with it.
Grease the top with a beaten egg so that our baklava is ruddy and beautiful.
And now we cut the baklava into traditional diamonds.
We do not cut it to the end, otherwise everything will flow out to the bottom of the mold and will burn. Therefore, we cut ALMOST to the end.
Then, in the middle of each rhombus, put a half of a walnut, pressing lightly (I didn't have enough walnuts, and I put almonds). Done! Now we turn on the oven, put our baklava dish on the stove, cover it with a towel and leave it to stand for 15 minutes.
After 15 minutes, we send our baklava to an oven preheated to 180 C. And we bake it for 15 minutes! Then we take out the baklava and pour it on top with the same remaining butter, which we did not all use to lubricate the layers.
If the cuts are stuck together, you can cut them with a knife so that oil gets into the cuts too.
But if you lubricated the layers generously and there is no oil left, then you will have to melt at least 50 grams of oil, because pouring oil is an important step, without which there will be no desired taste.
Another necessary step is pouring hot honey syrup on the baklava. The syrup is prepared simply: mix honey with hot water.
Honey syrup should be watered almost before the very readiness. That is, when the baklava turns golden, but is still a little pale, we take it out of the oven again
And pour honey syrup along the cuts (before pouring the syrup, you can once again walk along the cuts with a knife).
The syrup will go away about a third.
Now baklava can be baked to a beautiful reddish color.

We take out the honey baklava from the oven, cover it with a towel and let it cool down a little, degrees to 40-45 C.
When the baklava has cooled, remove it from the mold, cut the diamonds to the end.
Then dip each side in honey syrup. Put straight on each side for 3 seconds.
Then put the baklava on a dish and let it stand for another 15-20 minutes (if you endure it) so that it is soaked in this syrup and completely cooled down.
Now this is Baklava with a capital letter: the freshest, fragrant, multi-layered, nutty and honeyed! Enjoy!
Bon Appetit!
Also Like
Comments for "Baklava"