Lenten Baklava
by Editorial Staff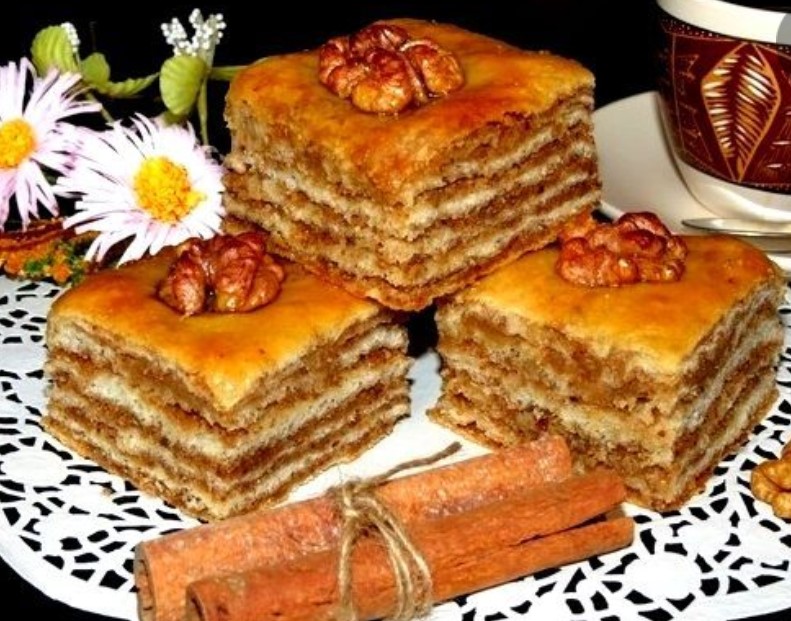 When you cook this baklava, you will see how delicious and nutritious the lean dishes can be. In general, I would not recommend you to eat such a dish if you are on a diet, despite the fact that this baklava is absolutely lean.
Cook: 2 hour
Ingredients
Flour – 300 Grams
Sugar – 2 Glasses
Walnuts – 1 Kilogram
Vegetable oil – 6 tbsp
Honey – 100 Grams
Yeast – 1 Teaspoon
Water – 300 Grams
Cinnamon – 2 Teaspoons
Vanillin – 1 Piece
Lemon – 1 Piece
Directions
We breed yeast in warm water. Pour flour through a sieve. Put 1 tablespoon of sugar, 3 tablespoons of vegetable oil and vanillin. Top up with 200 g of water. We knead the dough. We form 8 balls from it. Let them stand for half an hour.

Now we need walnuts. You can use any nuts. The main thing is that they are. Grind about a kilogram of nuts in a blender, leaving some for decoration. Add 6 tablespoons of sugar to a blender, 2 teaspoons of cinnamon and vanilla each.
Now we take a baking sheet. Lubricate it with oil. Roll out our dough balls into a rectangular shape. Keep the dough as thin as possible. Put the first layer on a baking sheet. Lubricate it with oil on top. Sprinkle with chopped nuts, not forgetting about the rest of the layers. Grease each layer and sprinkle with nuts.
Leave the last layer of dough bare. We also lubricate it with vegetable oil. The raw pie should be cut into lozenges in portions. Put half a walnut on top of each rhombus. We put in an oven preheated to 180 degrees for half an hour.
Now we need a whole lemon. Squeeze the juice out of it completely. Mix lemon juice with honey, add a glass of brown sugar and 100 g of water. We put all this on fire, bring to a boil and boil for about 5 minutes. When the baklava is browned, pour half the syrup over it. We put in the oven for 15 minutes. Then we take it out again and fill it with the remaining syrup. We bake until ready.

We take out a tray with baklava. Cool the dessert and cut into diamonds along the lines. The most fragrant baklava turned out to be very rich. And, mind you, within the framework of the post!
Bon appetit!
Also Like
Comments for "Lenten Baklava"