Lenten Borscht with Lentils
by Editorial Staff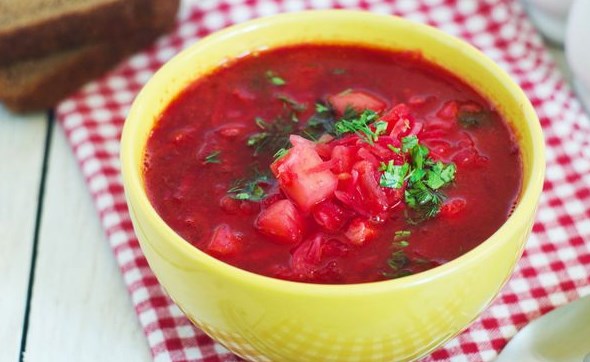 Thick aromatic borscht is prepared without meat, but with the addition of a small number of red lentils, which makes the dish more nutritious and satisfying! A great solution for a homemade meal!
Cook: 3 hours
Servings: 5
Ingredients
White cabbage – 220 g
Beets – 330 g
Red lentils – 65 g
Potatoes – 200 g
Tomatoes – 100 g
Onions – 50 g
Carrots – 50 g
Tomato paste – 70 g
Salt – 1 teaspoon
Ground black pepper – on the tip of a knife
Vegetable oil – 2 tbsp
Fresh dill – 3 g
Fresh parsley – 3 g
Bay leaves – 1-2 pcs.
Water – 1.6-1.7 liters
Directions
Rinse the beets, place them in a saucepan, and cover them with water until the beets are completely covered. Cover, bring to a boil, and then, reducing heat to low, cook the beets until cooked. The approximate cooking time is 45-50 minutes. Remove the finished beets from the water and cool.
Peel and cut the potatoes into small cubes.
Bring the water in a saucepan to a boil. Place the chopped potatoes and lentils in boiling water. Cover the pot with a lid, bring the contents of the pot to a boil, and then, reducing the heat to low, simmer for 10 minutes.

Peel the onion and cut it into small cubes. Peel and grate the carrots.
Rinse the tomatoes and make a cruciform cut in each. Pour boiling water over the tomatoes for 30-45 seconds and then discard in a colander. Pour ice water over the tomatoes and peel them off. Cut the peeled tomato pulp into small pieces.
Heat vegetable oil in a skillet. Place chopped onions and carrots. While stirring, fry over low heat for 2-3 minutes, until soft. Add chopped tomatoes and tomato paste to the pan, stir, heat for 1 minute over low heat, and remove from the stove.

Chop the cabbage thinly. If the cabbage is not juicy enough, you can mash it with your hands to soften the cabbage. Peel and grate the boiled beets.
Add shredded cabbage to a pot of potatoes and lentils. Bring to a boil, simmer for 5-6 minutes over low heat. Then add the beets and fry from the pan to the pan. Pour in salt and black pepper, add the bay leaf. Bring to a boil again. Cook the borscht for 5 minutes.

Remove the finished borscht with lentils from the heat, let it brew for 35-40 minutes and then serve. Chop parsley and dill. When serving, top each borsch with chopped herbs.
Bon Appetit!
Also Like
Comments for "Lenten Borscht with Lentils"