Lenten Borscht with Canned Green Peas
by Editorial Staff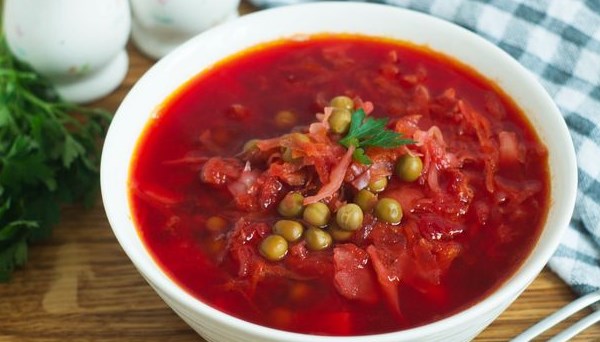 Adding canned green peas to borscht will make the dish more nutritious and varied! Such lean borscht with peas turns out to be thick and rich! The great hot first course for every day!
Cook: 1 hour 20 mins
Servings: 5
Ingredients
Canned green peas – 200 g
Beets – 190 g (1 pcs.)
White cabbage – 190 g
Potatoes – 350 g (4 pcs.)
Carrots – 100 g (1 pcs.)
Bulb onions – 100 g (1 pcs.)
Tomato paste – 30 g
Vegetable oil – 1-2 tbsp
Salt – 1 teaspoon
Ground black pepper – on the tip of a knife
Sugar – 0.5 teaspoon
Water – 1.8 L
Directions
Peel the onion and cut it into small cubes. Peel and grate beets and carrots.
Heat vegetable oil in a frying pan, add onions, beets, and carrots. While stirring, fry over medium heat for 3-4 minutes, until vegetables are soft.
Add tomato paste to the pan, add sugar and pour in 300 ml of water. Bring to a boil, reduce heat to low, cover skillet and simmer for 20 minutes.

Chop the cabbage. Peel and cut the potatoes into small pieces.
In a saucepan, bring 1.5 liters of water to a boil. Place the chopped potatoes and cabbage there. Bring to a boil and then simmer over low heat for 20-25 minutes, until vegetables are tender.

Add canned peas and fry to the pan. Add salt and black pepper. Bring to a boil and remove from heat.

Lean borsch with canned green peas is ready! You can serve the dish immediately after cooking, but borscht will become tastier if it is infused for a while.
Enjoy your meal!
Also Like
Comments for "Lenten Borscht with Canned Green Peas"