Green Borscht with Chicken
by Editorial Staff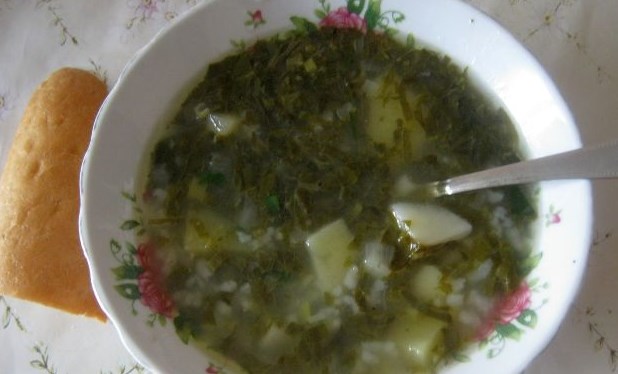 My spring dish for you is green borscht (or green cabbage soup as you call it). The most delicious green borscht is made by my mom. And I will share with you our homemade recipe.
Cook: 1 hour
Servings: 8
Ingredients
Chicken – 500 g
Water – 2.5 l
Potatoes – 2-3 pcs.
Spinach – 150 g
Sorrel – 200 g
Greens – 1 bunch
Green onions – 1 bunch
Onions – 1 pc.
Rice – 0.5 cups
Vegetable oil – 30 g
Chicken egg – 2 pcs.
Flour – 1 tbsp
Salt to taste
Directions
Peel and wash the onions. Wash the chicken, put it in a saucepan, and cover with cold water. Add onion. Bring water to a boil, remove the resulting foam with a slotted spoon. Cook the broth on low heat for 30 minutes, covered.

Meanwhile, peel and wash the potatoes. Cut into cubes. Rinse the sorrel and spinach well. Chop finely.
Wash and chop the green onions. Rinse the rice well. Rinse greens and chop finely.

Remove the chicken. Discard the onion. If necessary, the broth can be filtered. Put potatoes, rice, and green onions in boiling broth. Cook for 15 minutes.

In the meantime, heat the pan and pour in the vegetable oil. Place the chopped spinach and sorrel. Simmer over low heat for 10 minutes, stirring occasionally. When the potatoes are boiled, put the stewed herbs in the borscht.
In a bowl, pick up a little broth from borscht (4-5 tablespoons). Cool slightly. Break the chicken eggs into a bowl. Beat everything with a fork. Add 1 tablespoon. a spoonful of flour. Shake everything well.
In a saucepan with borscht pour the egg-flour mash in a thin stream, stirring continuously, in the saucepan with a spoon. Salt to taste. Let the borscht simmer under the lid for 5-7 minutes. Layout the greens.
Green borscht with chicken is ready. Put a piece of chicken on each plate. I recommend serving with sour cream.
Enjoy your meal!
Also Like
Comments for "Green Borscht with Chicken"