Chicken Borscht (no Beets)
by Editorial Staff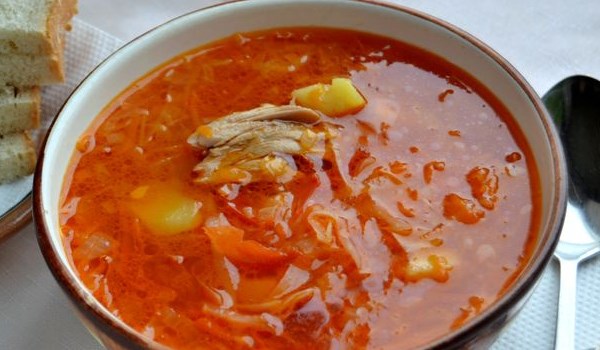 To diversify the lunch menu, let's try to slightly change the traditional recipe for borscht by making borscht without beets. Cook the broth from chicken.
Cook: 1 hour 5 mins
Servings: 6
Ingredients
Chicken soup set – 300 g
Potatoes – 2 pcs. (150 g)
White cabbage – 150 g
Carrots – 1 pc. (90 g)
Bulb onions – 1 pc. (65 g)
Bulgarian red pepper – 1/3 pcs. (20 g)
Tomato paste – 1.5 tbsp
Vegetable oil – 2 tbsp
Salt – 1 teaspoon
Water – 1.5 l
Directions
Pour the chicken meat in a saucepan with cold water, bring to a boil over high heat and reduce the heat to a minimum. Remove the foam with a slotted spoon and cook the chicken broth for 30 minutes.

Peel the potatoes and cut into medium slices. Place the sliced potatoes in the boiling broth. Add salt and cook potatoes with meat for 20 minutes.
Peel the onion and chop it finely. Rub the peeled carrots on a coarse grater.
Heat vegetable oil in a frying pan and fry the onion until transparent, 2-3 minutes. Then add the carrots, mix, and fry for another 3-5 minutes, until the carrots are soft.

Cut the bell pepper into strips. We send the chopped peppers to the pan to the already fried vegetables and fry together for 1-2 minutes. Then add tomato paste, stir and simmer for 1.5-2 minutes.
Slice the cabbage thinly. After boiling the broth with potatoes for 20 minutes, add chopped cabbage to it and cook for 3-5 minutes.

Then put the frying in a saucepan and cook for another 5 minutes. Turn off the heat and let the borscht brew for 5 minutes.

Serve the borscht hot. Put a piece of chicken meat on each plate. If desired, you can add sour cream, mayonnaise, or just greens to the borscht.
Enjoy your meal!
Also Like
Comments for "Chicken Borscht (no Beets)"