Borscht with Chicken and Hibiscus (no Beets)
by Editorial Staff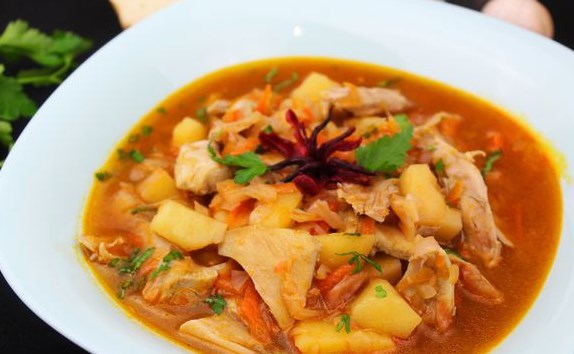 Even without beets, you can make delicious red borscht. Not everyone will be able to notice the absence of beets, because we will add hibiscus tea to this borscht, thus compensating for the color and sweetness of the beets. We will cook such borscht in chicken broth since poultry meat is best combined with the sweet and sour taste of hibiscus.
Cook: 1 hour 30 mins
Servings: 4
Ingredients
Chicken leg – 400 g (1 pcs.)
White cabbage – 100 g
Potatoes – 150 g
Carrots – 100 g
Red onion (or other) – 70 g
Sweet pepper – 60 g
Hibiscus tea – 10 g
Tomato paste – 1.5 tbsp
Vegetable oil – 30 ml (2 tablespoons)
Salt – 1 teaspoon (to taste)
Ground black pepper – to taste
Bay leaf – 2 pcs.
Black peppercorns – 5 pcs.
Parsley – 3-4 sprigs
Water – 1.2 ml
Directions
Cut the chicken leg into 3 pieces and place in a saucepan. Add bay leaves and peppercorns. Pour in 1 teaspoon of salt. Fill with cold water (1 l). Put the pot on the stove, turn on strong heat and wait for the water to boil. After removing the foam, reduce the heat to a minimum, cover the pan and cook the broth for 30-40 minutes, until the chicken meat is cooked.

Grind peeled vegetables. Grate the carrots on a coarse grater. Cut sweet peppers and onions into small cubes.
Chop the cabbage into thin strips. Cut the potatoes into cubes with a side of about 1 cm.
Heat vegetable oil in a frying pan and fry carrots, onions, and bell peppers over medium heat for 5-7 minutes, until soft. Add tomato paste to the pan. Fry for another 1 minute.

Pour 200 ml of boiling water into the hibiscus. Leave to infuse.
When the broth is ready, remove the chicken meat from it. Strain the broth, return to the saucepan, and put it on fire.
When the broth boils again, add the potatoes. Put the cabbage there. Cook for 20 minutes.
After a while, put the vegetable frying from the pan into the pan. Cook for 10 minutes.
Separate the chicken meat from the skin and bones and cut it into small pieces or disassemble it into fibers. Add chicken to borscht. Boil for a couple of minutes and remove the pan from the stove.
Pour hibiscus tea through a sieve. Season to taste and add salt if necessary. Mix.
Finely chop the parsley and add to the finished borscht. Stir, cover, and let the borscht brew for 10-15 minutes.

Pour ready-made red borscht with hibiscus (without beets) into plates and serve hot or warm. Bon appetit!
Also Like
Comments for "Borscht with Chicken and Hibiscus (no Beets)"