Chicken Broth Borscht
by Editorial Staff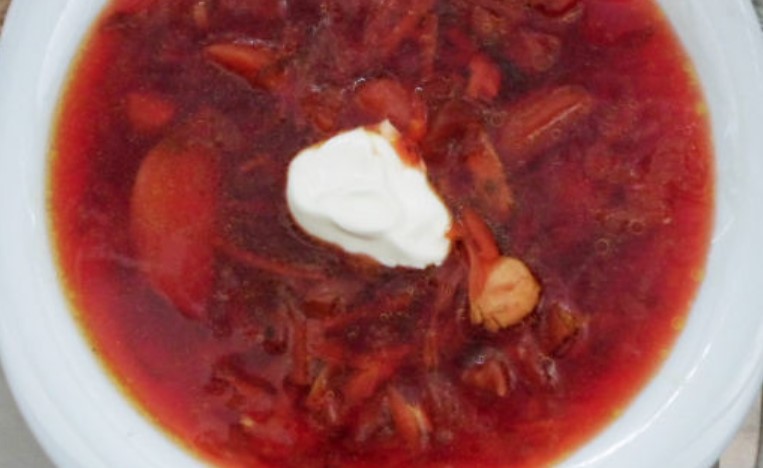 Borsch is a traditional Ukrainian dish. This borscht recipe is based on chicken broth. Borsch with chicken cooks much faster than with other meats.
Cook: 1 hour
Servings: 4
Ingredients
Hen
Cabbage – 300 g
Potatoes – 3 pcs.
Bulb onions – 1 pc.
Carrots – 1 pc.
Beets – 1 pc.
Bay leaf – 2 pcs.
Chicken broth – 3 l
Sunflower oil – 2 tbsp
Tomato paste (or ketchup) – 2 tbsp
Salt to taste
Directions
The first thing to do is to cook the chicken. Bring to a boil, constantly remove noise. After boiling, add salt, then cook for another 30 minutes.
Meanwhile, grate the beets and carrots, and finely chop the onion.
Fry the onion for 2 tablespoon. tablespoons of sunflower oil. Fry until it turns yellow and tender.
Then add the carrots, after the beets. Simmer until everything is soft. Add tomato paste or ketchup at the end. Simmer for another 3 minutes.

Chop the cabbage.
When the chicken is ready, remove it, remove the meat from the bone. First add potatoes to the broth, cut into bars or squares. After boiling, add cabbage and chicken. Cook until cooked potatoes and cabbage.
Add the dressing to the borscht (onions, carrots, and beets). Then add bay leaves. Cook for another 3-4 minutes.

Pour the finished borsch into plates. Serve hot with sour cream.
Enjoy your meal!
Also Like
Comments for "Chicken Broth Borscht"