Green Borscht in Chicken Broth
by Editorial Staff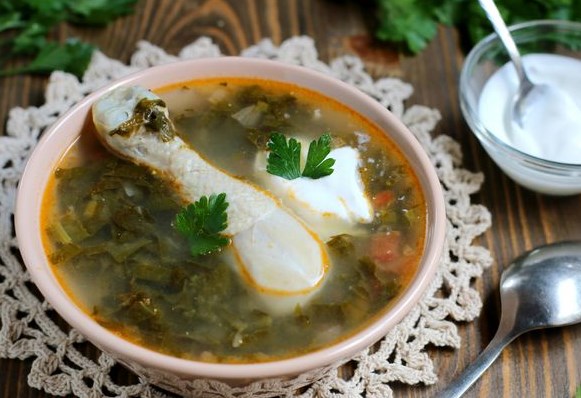 A fragrant and easy-to-prepare green borsch with sorrel is cooked in chicken broth. Fresh greens not only bring great benefits to the body but also add bright colors to the dish. The light, pleasant taste of this borscht will certainly be appreciated by the whole family.
Cook: 1 hour 15 mins
Servings: 5
Ingredients
Chicken drumsticks – 5 pcs.
Potatoes – 5 pcs.
Tomatoes – 2 pcs.
Carrots – 1 pc.
Bulb onions – 2 pcs.
Garlic – 2 cloves
Sorrel – 2 bunches
Green onion – 4-5 feathers
Parsley – a few twigs
Vegetable oil – 3-4 tbsp
Salt to taste
Ground black pepper – to taste
Sour cream – for serving
Directions
In a 2-liter saucepan, pour the chicken drumsticks with water and put them on fire. Bring to a boil and remove the foam. Peel the onions and carrots. Add one onion and half a carrot to the pot. Cook the broth for 30 minutes.

While the broth is cooking, finely chop the second onion and the remaining half of the carrots.
Make cruciform cuts on the tomatoes and fill them with hot water for two minutes. Then put it in cold water and remove the skin. Cut the tomato pulp into cubes.
Heat vegetable oil in a frying pan. Add onions and carrots and fry for about 5-7 minutes. Add the tomatoes and fry everything together for another 5 minutes.

Take the boiled onion and carrot out of the broth. Peel the potatoes. Leave one potato intact, cut the rest into cubes. Add a whole potato to the stockpot; we will use the chopped potatoes later.
Cut the sorrel into strips. Peel the garlic. Chop the green onion feathers, parsley, and garlic cloves.
As soon as the whole potato is cooked, take it out of the broth and put it in a pan with the fried vegetables, mash it with a wooden spatula, this will make the borscht thicker and more saturated. Put chopped potatoes in a saucepan with broth, salt and cook for 7-10 minutes.

After that add the fried vegetables from the pan to the pan. After 2 minutes, add chopped sorrel and cook for another 1-2 minutes. Add pepper and salt to the borscht to taste.

Then add chopped onion, parsley, and garlic to the borscht saucepan. Mix and after 1 minute remove the pan from the stove. Cover with a lid and let it brew for 10-15 minutes. Pour green borscht into plates, add sour cream, and serve.
Also Like
Comments for "Green Borscht in Chicken Broth"