Red Borscht with Sugar Beet
by Editorial Staff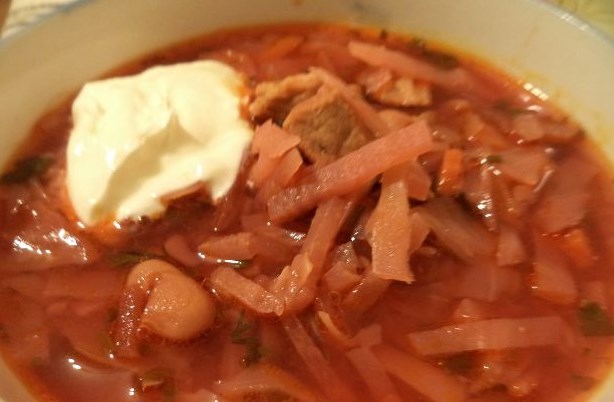 Have you ever tried borsch with sugar beet? Oh, how delicious! ..
Cook: 1 hour 30 mins
Servings: 8
Ingredients
Potatoes – 3-4 pcs.
Sugar beets – 0.25 pcs. (150-200 g)
Red beet – 1 pc.
Cabbage – 500-700 g
Beans – 0.5 cups
Tomato paste – 2 tbsp
Bulb onions – 1 pc.
Carrots – 1 pc.
Vegetable oil – 50 ml
Citric acid – on the tip of a knife
Salt to taste
Ground pepper – to taste
Greens (dill, parsley) – to taste
Sour cream (for serving) – to taste
Boiled meat (for serving) (optional) – 300 g
Water – 2.5 l
Directions
Wash the beans, put them in a saucepan, pour over with cold water. Leave on for 4-6 hours. Put the saucepan on the fire, bring it to a boil.
Cut a piece (150-200 g) from the sugar beet. Peel a piece of sugar beet, wash, cut into strips.
Place the prepared sugar beets in a saucepan over the beans. Reduce heat to low. Cook everything together for 40-60 minutes (until the beans are done).

Wash the red beets thoroughly, add cold water, bring to a boil, cook over low heat for 40 minutes.
Cool red beets, peel, cut into strips. Peel, wash, and cut the potatoes. Chop the cabbage. Peel the carrots, wash, cut into pieces.
Peel, wash onions. Put in a saucepan. Add potatoes. Cook everything for 10 minutes.
Add carrots. Cook for 10 minutes all together over low heat under a lid.
Preheat a frying pan, pour in vegetable oil. Put prepared red beets in hot oil. Simmer, stirring occasionally, over medium heat for 5 minutes. Add the tomato to the pan. Stir, simmer for 5 minutes.

Put the cabbage in a saucepan. Cook everything together for 5-10 minutes.
Put the frying in a saucepan. Season with salt and pepper, add bay leaf and citric acid. Cook the red borsch with sugar beets for another 10 minutes.

Wash and chop the herbs. Add to the pan. Let it boil, remove from heat. Leave the red borscht with sugar beets to brew for 20 minutes.
Red borsch with sugar beet is ready. Serve with sour cream. If desired, you can add a piece of boiled meat and sour cream to a plate with borscht. Bon Appetit!
Also Like
Comments for "Red Borscht with Sugar Beet"