Borscht with Red Cabbage and Chickpeas
by Editorial Staff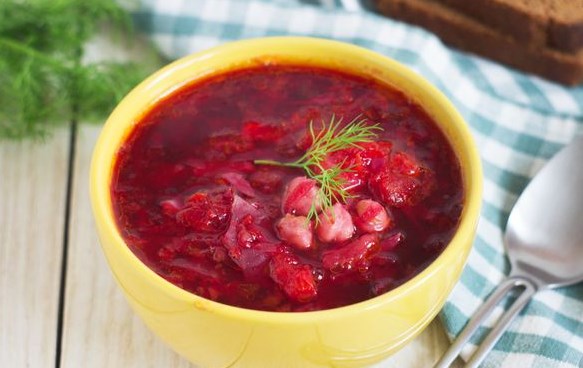 Very original borscht is prepared with the addition of unusual ingredients: boiled chickpeas and red cabbage! It is also interesting that beets for borscht are baked, and vegetables for frying are not chopped or grated, as usual, but are chopped in a blender. The result is a thick, rich first course that satiates well!
Servings: 6
Ingredients
Red cabbage – 300 g
Dry chickpeas – 50 g
Beets – 1 pc. (280 g)
Potatoes – 270 g
Tomatoes – 140 g
Bulgarian red pepper – 70 g
Onions – 70 g
Carrots – 60 g
Garlic – 1 clove
Vegetable oil – 1-2 tbsp
Salt – 1 teaspoon
Ground black pepper – on the tip of a knife
Lemon juice – 1-2 tbsp
Water – 1.3 L
Directions
Soak the chickpeas in water overnight. Then rinse the chickpeas, place in a saucepan, and cover with water. Bring the water to a boil, remove the foam, and cook the chickpeas over low heat for 1 hour.

Wash the beets, wrap in foil and bake in the oven at 190 degrees for 60-80 minutes, until soft.
Remove the finished beets from the oven and cool.
Peel the potatoes, cut into small slices, add to the pan with the chickpeas. Bring to a boil and cook for 10 minutes.
Finely chop the red cabbage and place in a saucepan. In order for the cabbage to retain its bright appetizing color during cooking, it is necessary to squeeze out and add lemon juice to the pan. It is important that the potatoes are already completely ready by this time.

Peel the onion. Peel the bell peppers from seeds. Cut peeled onions, carrots, and peppers into large pieces and place in a blender bowl. Chop vegetables until smooth.
Heat vegetable oil in a frying pan, add chopped vegetable mass. Cook vegetables over medium heat, stirring frequently, for 3-4 minutes.
Make a cruciform cut in the tomatoes. Pour boiling water over the tomatoes for 30-45 seconds and then discard in a colander. Pour the tomatoes over with ice water, remove the skin. Cut the peeled tomato pulp into small pieces and add to the pan. Stir and cook for another 2-3 minutes, stirring occasionally. Add the finished frying to the pan.

Peel the baked beets and grate them on a coarse grater. Add the chopped beets to the pot. Add salt and black pepper. Peel the garlic, chop finely and also add to the borscht. Bring the contents of the saucepan to a boil and remove from heat.
Borscht with red cabbage, chickpeas, and baked beets is ready! Ready borscht can be served immediately after cooking. Bon Appetit!
Also Like
Comments for "Borscht with Red Cabbage and Chickpeas"