Delicate Red Borscht with Beans
by Editorial Staff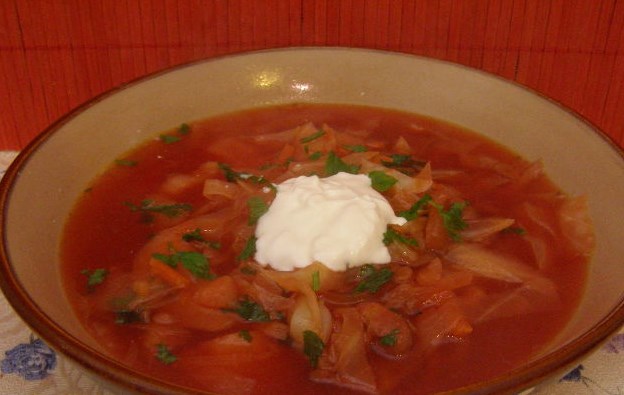 I think this is not quite a classic borscht recipe. But that's how I do it! The taste of borscht is very delicate. Since the recipe uses neither tomatoes, nor tomato paste, nor lemon juice, the borscht turns out to be sweetish, which is especially good for those who cannot eat sour.
Cook: 3 hours 25 mins
Servings: 12
Ingredients
Cabbage – 0.8-1 kg
Potatoes – 600-800 g
Beets – 2 pcs.
Carrots – 2 pcs.
Onions – 1-2 pcs.
Beans – 200 g
Vegetable oil – 5 tbsp
Bay leaf – 1-2 pcs.
Salt – 2-4 teaspoon
Greens to taste
Sour cream when serving – to taste
Directions
Cook the beans in a separate saucepan. You need to cook it until full or almost until ready (1-2 hours). Therefore, this can (and should) be done in advance.

When the beans are almost ready, fill a five-liter saucepan halfway with water. Put on fire.
Peel the onion and cut it into cubes. Peel the carrots, wash, cut into strips. Peel and chop the beets.
Heat 1 tablespoon in a frying pan. a spoonful of vegetable oil, fry the onion over medium heat until transparent (7-10 minutes). Transfer to a bowl.

Heat 2 tablespoon in a frying pan. tablespoons of vegetable oil. Fry 3/4 of all carrots over medium heat until golden brown (10 minutes).
When the water boils, add carrots and onions.
Heat 2 tablespoon in a frying pan. tablespoons of vegetable oil. Fry 2/3 of the beets over low heat for 10 minutes.

Pour both roasted and raw beets into a saucepan. Bring to a boil and cook for 10-15 minutes.
Peel the potatoes, wash, cut into large cubes. Coarsely chop the cabbage.
Add potatoes. Bring to a boil and add cabbage. Cook for another 15 minutes.

Salt to taste. I add 2-3 teaspoons of salt. Add beans and bay leaves. Bring to a boil and simmer for another 5-10 minutes.
Chop the herbs and add them to the borscht. Turn off the pot. Let it brew for 15-20 minutes.
You can serve lean borscht with beans with sour cream. Since this borscht is cooked without meat, it can be served hot or cold.
Also Like
Comments for "Delicate Red Borscht with Beans"