Red Borscht
by Editorial Staff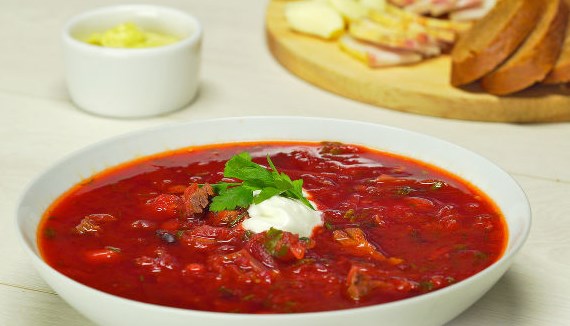 The famous red borscht is loved for its special aroma, amazing taste, and rich color. The perfect combination of vegetables gives red borscht that individual taste that makes it one of the most famous soups in the world. Borscht is served inexpensive restaurants and is cooked at home. Whenever there is an opportunity to taste borscht, we choose it.
Cook: 2 hours 20 mins
Servings: 10
Ingredients
Meat on the bone – 800 g
Beans – 50 g
Beets – 400 g
White cabbage – 250 g
Small potatoes – 6 pcs.
Carrots – 2 pcs.
Bulb onions – 2 pcs.
Tomato paste – 140 g
Bay leaf – 3 pcs.
Sugar – 1 tbsp
Vinegar 9% – 1 tbsp
Black peppercorns – 10 pcs.
Salt – 3 teaspoon
Green onions – 5 g
Garlic – 3 cloves
Fresh dill – 15 g
Fresh parsley – 15 g
Vegetable oil – 3 tbsp
Water – 2.5 l
Sour cream (for serving) – to taste
Directions
Put well-washed meat in a saucepan and cover with water. As soon as the broth begins to boil, it is necessary to remove the foam. Add beans to the broth and cook over low heat for 1.5 hours.

Chop the cabbage into thin strips. Cut the potatoes into cubes. Grate the beets on a coarse grater. Grate carrots on a coarse grater. Finely chop the onion.
Preheat a frying pan, add 2 tablespoon. tablespoons of vegetable oil and fry the onion for 1 minute.
Then add the carrots and fry for another 2 minutes.

Add beets to the pan, 1 teaspoon of salt, 1 tablespoon. a spoonful of vegetable oil and fry, stirring constantly, for 2 minutes. Add 1 tablespoon. a spoonful of sugar, tomato paste, 1 tablespoon. a spoonful of vinegar and 100 ml of broth. Reduce heat to low and simmer beets with the lid closed for 15 minutes.

Remove the meat from the broth, separate it from the bones, and cut it into small cubes.
Put potatoes in broth and cook for 10 minutes. Then add 1 teaspoon of salt, peppercorns, bay leaf. Add cabbage and cook for 10 minutes. Add browned vegetables, mix well. Cook the borsch with beets over low heat for 3 minutes.
Add chopped green onions, crushed garlic, chopped parsley, and dill to the borscht. Turn off the stove, cover the pan with a lid, and leave the borscht for 15 minutes. Serve red borscht with sour cream.


Enjoy your meal!
Also Like
Comments for "Red Borscht"