Red Borscht "Three Hostesses"
by Editorial Staff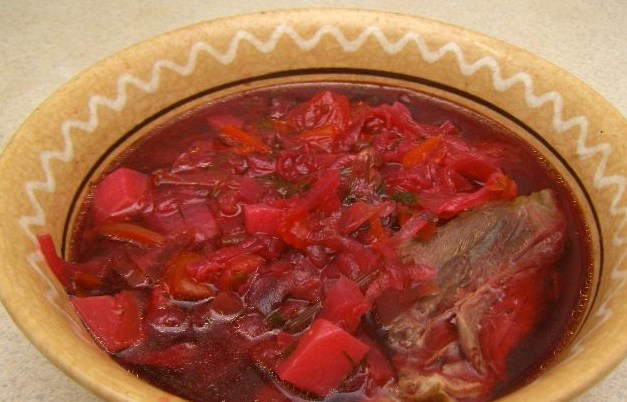 Each housewife has her own recipe for borscht … And if in the summer three housewives are going to cook borscht in a country kitchen? It turned out delicious, the recipe was approved)))
Ingredients
Homemade chicken – 300-500 g
White beans – 1 glass
Young beets – 2-3 pcs.
Young carrots – 1 pc.
Onions – 1 pc.
Young potatoes – 300 g
Young cabbage – 0.25-0.5 heads of cabbage
Sweet pepper – 1 pc.
Tomatoes – 2-3 pcs.
Greens – 1 bunch
Salt – 2-2.5 teaspoon
Directions
My homemade chicken, cut into convenient pieces and set to cook in a 4-5 liter saucepan. There should be enough water in the pot to cover the meat, but not more than three quarters. When the water boils, remove the foam.

At the same time, pour water over the white beans and set them to boil too.
Peel the beets and place them in the boiling broth. Cook until the beets are cooked (35-40 minutes).
Peel, wash, and cut the carrots into strips. Peel, wash, and chop the onion.
Peel the potatoes, wash and cut into small cubes. Chop the cabbage not very thinly. Take out the finished beets and cool.
Salt the broth. Dip onions, carrots, potatoes, and cabbage into the broth.
During this time, peel and finely chop the bell pepper. Add pepper and beans cooked by this time (along with the liquid in which it was cooked) into the borscht.

Wash the tomatoes. Scald them with boiling water if desired and peel them off, but this is not necessary. Cut into cubes. Add tomatoes to the borscht.

Grate beets on a coarse grater – this way it gives off color better. We spread the beets in the borsch. We check the borscht for salinity, salt if necessary.
Finely chop the greens. We fall asleep greens. You can add a bay leaf to red borsch with beans. And turn off the borscht. Red borsch with beans can be eaten immediately, or even better – the next day.
Enjoy your meal!
Also Like
Comments for "Red Borscht "Three Hostesses""