Red Borscht with Beef
by Editorial Staff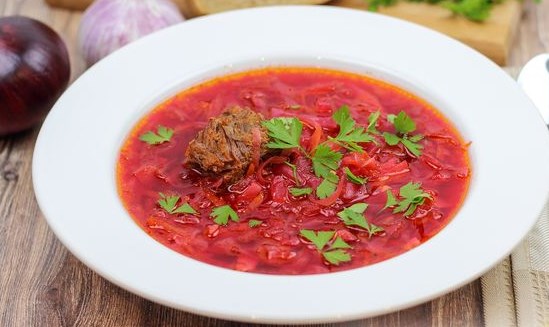 Looking for a proven delicious red borscht recipe? How to cook a clear and rich broth? Borsch with a bright taste and beautiful color – this is what my family loves. I recommend it to everyone!
Ingredients
Beef on the bone – 500 g
Beets (small) – 300 g
White cabbage – 300 g
Tomatoes – 2 pcs.
Potatoes – 3-4 pcs.
Carrots – 1 pc.
Bulb onions – 1 pc.
Garlic – 3 cloves
Sugar – 0.5 teaspoon
Lemon (juice) – 0.5 pcs.
Bay leaf – 2 pcs.
Salt to taste
Ground black pepper – to taste
Vegetable oil – for frying
Fresh greens – to taste
Directions
Prepare all products for red borscht with beef. Prepare broth. Pour about 3 liters of water into a saucepan, add meat, bring to a boil. When foam appears (we do not need its taste), drain the water completely. Then pour clean cold water, put the meat in a saucepan, bring to a boil. Reduce heat, simmer the broth, so that it barely gurgles. Cover with a lid, cook for 2-2.5 hours until the meat is tender. Then the broth will be transparent and rich.

Prepare vegetables. Cut the onion into small cubes. Grate the carrots and beets separately on a coarse grater. Cut the cabbage into thin strips. Cut the potatoes into strips. Finely chop the garlic. Grate the tomatoes on a coarse grater so that the skin remains in your hands.

Pour oil into the pan so that it covers the bottom and reheat. Fry the onions and carrots in vegetable oil for 5-7 minutes, so that the carrots are slightly soft.
Add beets, sprinkle with lemon juice (or 9% vinegar) so that the beets do not lose color and the borscht is slightly sour. Stir and fry until the beets are soft. Add mashed tomatoes, sugar, a little salt and ground pepper, and garlic. Mix. Fry vegetables, uncovered, for 10-15 minutes, until tender.
Remove the meat from the broth. Add potatoes to the broth. Cook until half-cooked potatoes, 5 minutes. Add cabbage, cook over low heat until potatoes are tender.
Add fried vegetables to the broth. Remove the meat from the bone, cut it into pieces, and also send it to the broth. Add salt (about 1 half tablespoons) and bay leaf. Mix. Bring to a boil, let it simmer for 2-3 minutes, remove the pan from the stove. Let the borscht brew. Serve red borscht with fresh chopped herbs.


Enjoy your meal!
Also Like
Comments for "Red Borscht with Beef"