Red Cabbage Borscht with Apple
by Editorial Staff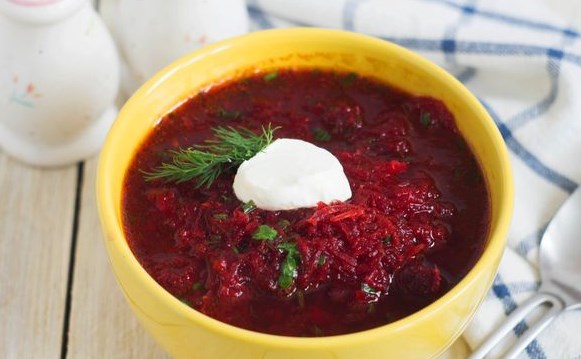 Luxurious thick borscht is prepared according to an unusual, very original technology, besides, from not quite familiar products! All vegetables are chopped in a food processor, which significantly reduces the cooking time, and then cooked with vegetable broth. The addition of a small amount of apple cider vinegar allows you to give the borscht a bright, rich color and light sourness!
Cook: 1 hour 30 mins
Servings: 8
Ingredients
Red cabbage – 200 g
Beets – 370 g
Bulgarian pepper – 220 g (1 pcs.)
Carrots – 100 g
Apple (green) – 120 g (1 pc.)
Red onion – 100 g (1 pcs.)
Celery stalk – 30 g
Garlic – 2-3 cloves
Apple cider vinegar – 1 tbsp
Tomato paste – 70 g
Ground coriander – 1 teaspoon
Bay leaf – 1 pc.
Salt – 1 teaspoon
Ground black pepper – on the tip of a knife
Vegetable oil – 2 tbsp
Fresh dill – 10 g
Fresh parsley – 10 g
Sour cream (for serving, optional) – to taste
For the vegetable broth:
Onions – 90 g
Carrots – 100 g
Bay leaf – 1 pc.
Vegetable oil – 1-2 tbsp
Water – 1 l
Directions
For the broth, peel the onion and carrots, cut them into large pieces. In a saucepan or saucepan, heat the oil and fry the chopped vegetables until lightly tanned.
Rinse the greens, separate the leaves from the stems. Put the dill and parsley stalks, bay leaf in a saucepan, and pour in room temperature water. Bring to a boil and simmer over low heat for 30 minutes. Set aside the prepared vegetable broth.

Peel carrots, red onions, and garlic cloves. Cut the bell pepper lengthwise and remove the inside with the seeds. Rinse the celery stalks. Put prepared vegetables and grind in a food processor on a fine grater.
Heat the vegetable oil in a saucepan where borsch will be cooked. Layout the chopped vegetables. Fry vegetables for 4-5 minutes over medium heat, stirring occasionally, until soft.

Peel the beets. Cut the apple into 4 pieces and remove the core. Finely chop the red cabbage, apple, and beet in a food processor.
Add tomato paste, chopped cabbage, beets and apple, bay leaf, ground coriander to the vegetable mass in a saucepan. Stir. Strain the previously prepared vegetable broth and pour it into a saucepan. Season with salt, add black pepper and bring to a boil. Cook over low heat for 25-30 minutes.

Finely chop the remaining greens (without stems) and add to the borscht. Stir, bring the borscht to a boil, and remove from heat.
Red cabbage borscht is ready! You can serve it with fresh sour cream immediately after cooking. Enjoy your meal!
Also Like
Comments for "Red Cabbage Borscht with Apple"