Borscht with Apples
by Editorial Staff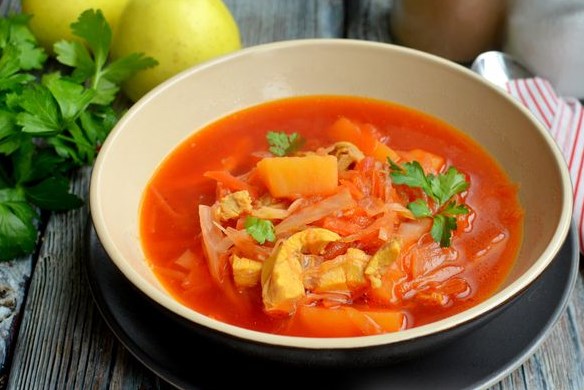 Add an apple to your usual red borscht, and the first course will become more original and tasty. The apple is fried along with the rest of the vegetables and gives the borscht an aromatic acidity and an interesting fruity note.
Cook: 50 mins
Servings: 6
Ingredients
Chicken thighs – 250 g (2 pcs.)
White cabbage – 200 g
Beets – 80 g (1 pc.)
Apples – 80 g (1 pc.)
Potatoes – 300 g (2 pcs.)
Carrots – 70 g (1 pc.)
Onions – 40-60 g (1 pc.)
Tomato paste – 1 tbsp
Vegetable oil – 2 tbsp
Cumin – 0.5 teaspoon
Bay leaf – 2 pcs.
Salt – 1 teaspoon
Ground black pepper – 0.1 teaspoon
Fresh parsley for serving – 2-3 sprigs
Directions
Prepare the food you need. For the broth, you do not need to take thighs, you can use any parts of the chicken.
Boil 2 L of water in a saucepan. Add the chicken, bring to a boil and cook for 20 minutes, until tender.

Peel the beets, carrots, onions, and apples. Cut the onions into small cubes. Chop the apple, carrots, and beets on a coarse grater.
Heat vegetable oil in a skillet and sauté the carrots, onions, beets, and apples until tender, about 10 minutes over medium heat. Add tomato paste, 2-3 ladles of broth from the pan to the pan, and add cumin. Stir and simmer for 5-6 minutes.

Peel and cut the potatoes into cubes or sticks. Chop the cabbage with a knife.
Remove the chicken meat from the pan and cool to chop.
Place prepared potatoes in broth and bring to a boil. Add cabbage, bring to a boil and cook for 10 minutes over medium heat.
Remove the chicken meat from the bone, chop finely and add to the saucepan.

Transfer the frying pan from the pan to the pan. Bring to a boil and cook the borscht for 5 minutes. Add salt, black pepper and bay leave. Turn off the heat and let the borscht brew for 10 minutes before serving.
Pour the borscht into bowls. Add fresh herbs directly to the plate, because in a saucepan with hot borsch, parsley will quickly lose some of its beneficial properties and change its appetizing bright green color. This hearty, tasty, and original first course is sure to please!
Bon Appetit!
Also Like
Comments for "Borscht with Apples"