Borscht with Sauerkraut
by Editorial Staff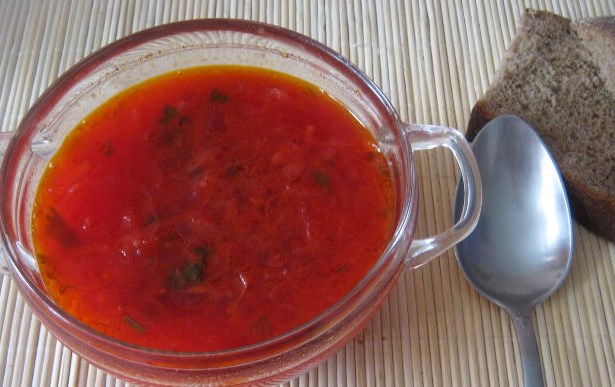 In such a borsch with sauerkraut, sour cabbage is placed instead of fresh. Any housewife cooks borscht in her own way. Try another one like this.
Cook: 40 mins
Servings: 6
Ingredients
Water – 2.5 l
Beets – 1 pc.
Carrots – 1 pc.
Bulb onions – 1 pc.
Tomato paste – 2 tbsp
or tomatoes – 3-4 pcs.
Potatoes – 4 pcs.
Sour cabbage – 200 g
Greens (parsley, dill) – 1 bunch
Garlic – 2-3 cloves
Vegetable oil – 6 tbsp
Salt – 1 tbsp
Pepper – 1-2 pinches
Directions
Boil 2.5 liters of water.
Meanwhile, peel and wash the potatoes. Cut into pieces.

Peel, wash, and grate beets and carrots. Peel, wash, and finely chop the onion.

Dip the prepared potatoes into boiling water.
Preheat a frying pan, pour in vegetable oil. Layout the beets. Simmer over medium heat, stirring occasionally, for 3-4 minutes. Then add the carrots. Simmer for 2-3 minutes, stirring occasionally.

Then add the onion. Simmer for 1-2 minutes. Boil the kettle. Add tomato paste (or grated fresh tomatoes). Stir and simmer for 3-5 minutes. Pour 1 glass of hot water or vegetable broth, cover, and simmer over low heat for about 10 minutes. The frying is ready.
Sauerkraut borsch requires exceptional quality cabbage, without unpleasant odors. You can additionally rinse the cabbage in a colander with cold water. Squeeze out. Chop the cabbage. (You can simmer cabbage in vegetable oil for 3-4 minutes over low heat).

When the potatoes have boiled for 10 minutes, you can put the prepared cabbage. Cook for 10 minutes.
Put the frying in the borscht. Season with salt, pepper and let it boil for 5-7 minutes.
Wash and finely chop the herbs. Peel and finely grate the garlic. Put garlic and herbs in borscht. Turn off the heat and leave the borsch with sauerkraut to brew under the lid for about 15 minutes.
Also Like
Comments for "Borscht with Sauerkraut"