Rich Borscht with Sauerkraut
by Editorial Staff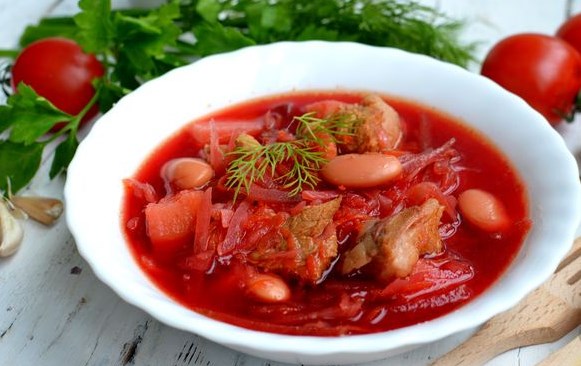 Pork borscht with beans and sauerkraut is a winter version of the first course since at this time the body wants to warm up, get more calories from food. This borscht turns out to be rich, satisfying, and very tasty.
Cook: 1 hour 10 mins
Servings: 8
Ingredients
Pork (pulp) – 350 g
Sauerkraut – 350 g
Canned beans – 320 g (1 can)
Beets – 300 g (2 pcs.)
Potatoes – 500 g (4 pcs.)
Carrots – 120 g (1 pcs.)
Garlic – 2 cloves
Tomato paste – 40 g (1 tablespoon)
Salt – 1 teaspoon
Ground black pepper – 1/5 teaspoon
Sugar – 1 tbsp
Cloves (dried buds) – 2 pcs.
Bay leaf – 2 pcs.
Fresh greens – 1-2 branches
Directions
Wash the pork thoroughly and cut into small pieces of 2-3 cm. In a saucepan, bring 2 liters of water to a boil and add the pork. Bring to a boil again, remove the foam and cook the meat for 40 minutes, until tender.

Peel and dice the potatoes. Add potatoes to the pot with the meat.
Peel and grate the carrots. Children love it when carrots are not visible in the first courses, so I rub them on a fine grater. Add the carrots to the pot and cook for 10 minutes.

Add sauerkraut to a saucepan and cook for 10 minutes. Don't worry, the acid in the cabbage will keep the potatoes from boiling.
Peel and cut the beets into thin cubes or strips. The thinner it is, the softer it will be in the finished dish.
Throw canned beans in a colander and rinse from the sauce. Dissolve the tomato paste in 100 ml of water.
Add beets, beans to the borscht saucepan and pour in the tomato paste. Cook over low heat for 10-15 minutes, the beetroot slices should remain slightly crispy.

Pour sugar, salt, and black pepper into a saucepan. Add bay leaves and clove buds.
Peel the garlic cloves, crush with a knife, and place in a saucepan. Bring to a boil and turn off the heat.
Let the borscht brew for about 20 minutes. Then catch bay leaves, garlic, and cloves from it. Pour the borscht with sauerkraut and beans into bowls and add the fresh herbs.
The borscht is very rich in color because of the beets, while we did not fry it in oil, but simply added it to the pan. Delicious, satisfying, and simple!
Also Like
Comments for "Rich Borscht with Sauerkraut"