Borscht Naval
by Editorial Staff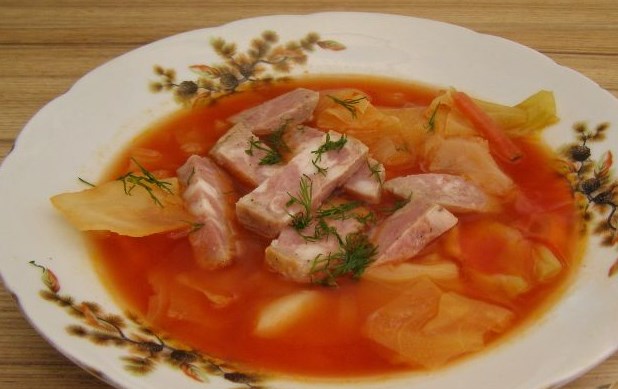 I don't know why this borscht has such a name. But the naval borscht turned out to be delicious, so I am sharing the recipe.
Ingredients
Cabbage – 200 g
Potatoes – 200 g
Beets – 300-400 g
Carrots – 1 pc.
Onions – 1 pc.
Parsley root – 1 pc.
Smoked meats – 300 g
Vegetable oil – 3 tbsp
Salt – 1 teaspoon
Ground black pepper – 0.5 teaspoon
Bay leaf – 1 pc.
Water – 1.5 l
Directions
Peel carrots and beets, wash, and cut into strips.

Peel the parsley and chop finely. Peel the onion and chop finely. Cut the cabbage into "squares".
Peel the potatoes, wash and cut into small pieces or cubes.
Heat 1 tablespoon in a frying pan. a spoonful of vegetable oil, put the carrots and fry them over medium heat, stirring occasionally, for 7 minutes.
Heat 2 tablespoon in a frying pan. spoons put the beets. Simmer the beets covered over medium heat for 10 minutes.

Boil water in a saucepan. Add cabbage, bring to a boil. Add potatoes, cook for 10 minutes.

Place prepared roots (beets, carrots, parsley) and onions. Cook for 5 minutes. Add tomato paste. Cook for another 5 minutes.
Add salt, pepper, bay leaf. Cook for 5 minutes, then turn off the heat.
Cut the smoked meats.

Pour the naval borscht into plates. Put smoked meats on each plate. The naval borscht is ready.
Enjoy your meal!
Also Like
Comments for "Borscht Naval"