Borscht with Beef
by Editorial Staff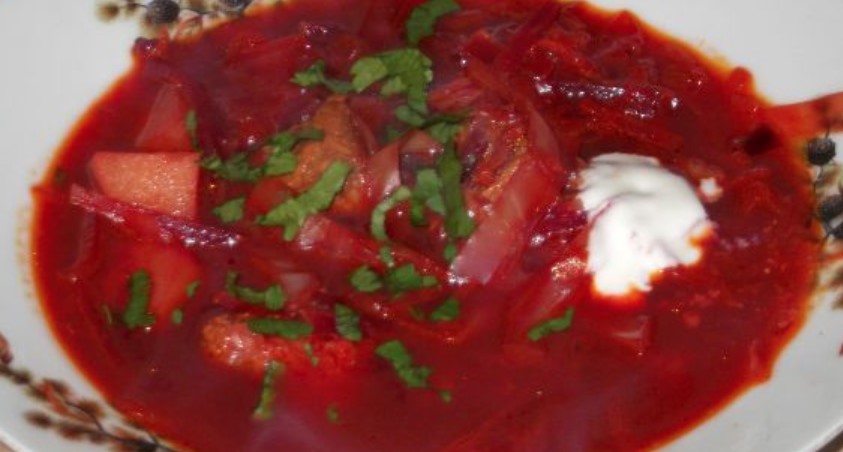 Delicious red borscht with beef is very easy to prepare.
Cook: 1 hour 50 mins
Servings: 6
Ingredients
Beef – 500 g
Beets – 1 pc.
Potatoes – 2 pcs.
Cabbage – 200 g
Carrots – 1 pc.
Onions – 1 pc.
Greens (dill or parsley) – 2-3 teaspoon
Tomato paste – 1 tbsp
Vegetable oil – 2 tbsp
Vinegar – 1 teaspoon
Sour cream – 2 tbsp
Salt – 2 teaspoon
Black peppercorns – 2-3 pcs.
Bay leaf – 1 pc.
How to cook borscht with beef:
Directions
Rinse the beef, cut it into large pieces.
Pour 1.5 liters of water and cook for 90 minutes over medium heat, removing the resulting foam.

Season with salt at the end of cooking.
Peel, wash, cut the beets into strips.
Peel carrots, wash, grate on a coarse grater.
Peel the onion, wash, chop finely.
Wash cabbage, chop.
Peel the potatoes, wash, cut into cubes.
Heat vegetable oil in a frying pan. Stir the beets, carrots, and onions over medium heat and simmer in a pan with vegetable oil for 5–7 minutes.

Finally, add vinegar and tomato paste. Mix.
Put potatoes and cabbage in boiling broth, cook for 10 minutes.
Then add the stewed vegetables, bay leaf, and pepper if desired. Cook the borsch with beef for another 5-7 minutes.

Chop the greens.
Pour the finished borscht with beef into plates, season with sour cream, and sprinkle with herbs.
Also Like
Comments for "Borscht with Beef"