Red Borscht of Beef and Young Vegetables
by Editorial Staff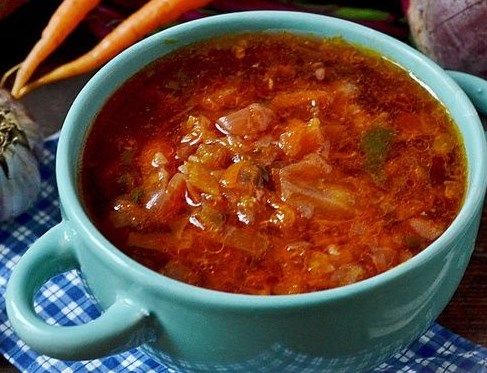 In the spring, when fresh young vegetables are just beginning to appear, I suggest making red borscht from them according to this recipe. We will use both tops and roots. Borscht with beef turns out to be very satisfying, rich, and also healthy.
Servings: 6
Ingredients
For broth:
Beef – 600 g
Bay leaf – 2 pcs.
Black peppercorns – 1 pc.
Bulb onions – 1 pc.
Garlic – 4 cloves
Water – 2 l
For borscht:
Young beets with tops – 2 pcs.
Young white cabbage – 300 g
Young potatoes – 400 g
Tomato – 1 pc.
Young carrots – 2 pcs.
Young onions – 2 pcs.
Young garlic – 1 head
Salt to taste
Vegetable oil (for frying) – 2 tbsp
Directions
Rinse the meat, cover with water, add bay leaf, peppercorns, peeled garlic cloves, and onion in the husk. Bring to a boil over high heat, remove the foam. Then reduce the heat, cover the pan with a lid, and cook the beef for 1-1.5 hours, until the meat is tender. Strain the broth. Discard the vegetables and set aside the meat.

Peel and cut the potatoes into small cubes. Peel and chop the young garlic. Send the potatoes and garlic to the broth. Cook over medium heat until the potatoes are half cooked, about 7 minutes after boiling.
Prepare a roast. Cut the onion into small cubes. Grate the carrots on a coarse grater. Fry the onions and carrots in a skillet with oil until the carrots are half cooked, about 7 minutes over medium heat.

Peel and grate beets on a coarse grater. Add half the beets to the pan and simmer for another 7 minutes.
Cut the tomato into cubes. Add the tomato to the vegetable skillet. Simmer for another 5 minutes. Then add the vegetable frying to the broth with potatoes.

Finely chop the beet stalks and place them in the pot as well. Cut the cabbage and beet leaves into thin strips, also put in a saucepan.
Cut the boiled beef into slices of the desired size. I cook for children, so I cut the meat smaller.
Add the meat to the borscht saucepan.
Finally, add the remaining beets to the borscht, bring to a boil, reduce the heat and simmer the borscht from young vegetables for about 7 minutes. Salt. Serve the red beef and young vegetable borsch with bread and, if desired, sour cream. Bon Appetit!
Also Like
Comments for "Red Borscht of Beef and Young Vegetables"