Volyn Red Borscht
by Editorial Staff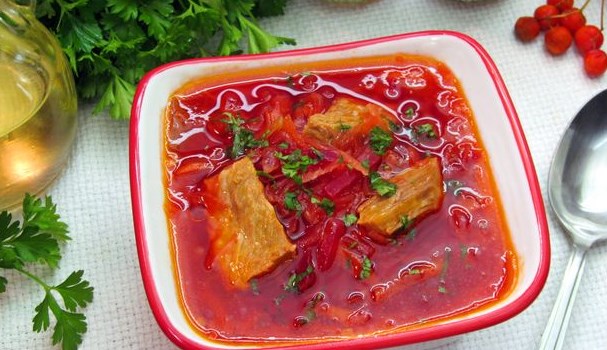 There are many recipes for borscht. Volynsk borscht has its own interesting features. Such borscht is cooked without potatoes, celery is added to the frying, in addition to onions and carrots, and the beets are boiled separately and then added to the borscht, due to which it turns out not burgundy, but a bright red hue, fragrant and very tasty.
Ingredients
Meat (pulp on the bone) – 500-600 g
White cabbage – 300 g
Beets – 180 g
Celery (root) – 150 g
Onions – 100 g
Carrots – 100 g
Tomato paste – 70 g
Vegetable oil – 2 tbsp (30 ml)
Bay leaf – 2 pcs.
Black peppercorns – 12 pcs.
Salt to taste
A mixture of ground peppers – to taste
Parsley – 15 g
Water – 2 l
Directions
Cut the meat on the bone (I used ribs) into pieces and put it in a saucepan. Fill the meat with water and bring to a boil. After boiling, remove the foam, add bay leaves, black peppercorns and cook over low heat for about 1 hour, until tender.

Simultaneously with the meat, set to boil the beets. Fill the beets with water in a separate saucepan and boil for 40-60 minutes, until tender. Remove the finished beets from the water and leave them to cool.
When the meat is ready, remove it from the broth, separate it from the bone, and cut it into large enough pieces. Strain the broth, then transfer the chopped meat to the broth.
Peel the onions, carrots, and celery. Cut the onion into small cubes. Grate carrots and celery on a coarse grater.

Heat vegetable oil in a frying pan and fry the onion until transparent. Add celery and carrots to the onion and fry for about 7 minutes, until light golden brown. Then add tomato paste to the vegetables in the pan. Fry for 2 minutes, stirring occasionally.

Chop the cabbage into strips. Put the cabbage in a saucepan with broth and meat. Bring to a boil and cook for 10-15 minutes.

Peel the boiled and cooled beets and cut them into thin strips. Add the beets to the pot. Along with the beets, add the vegetable fry to the pan. Pour in salt.
Cook the borscht over low heat for another 10 minutes, then add the mixture of ground peppers and turn off the heat. Volyn borscht is ready.
Chop the parsley. We pour the borscht into plates, add chopped parsley to each portion. If you wish, you can serve sour cream with the borscht. Enjoy your meal!
Also Like
Comments for "Volyn Red Borscht"