Delicious Red Borscht
by Editorial Staff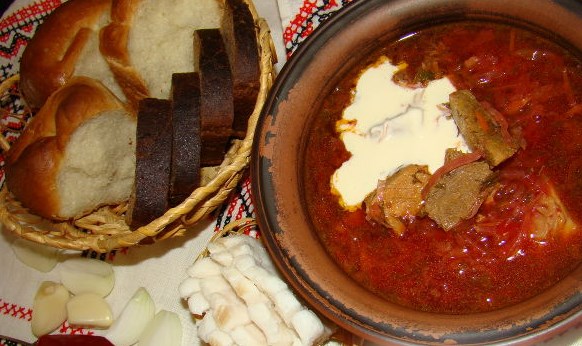 Delicious red borscht, in meat broth, with fresh vegetables …
Ingredients
Pork with bone – 1-1.5 kg
Potatoes – 700 g
Beets – 500 g
Large onions – 2 pcs.
Garlic
Large tomatoes – 2 pcs.
Large carrots – 1 pc.
Salad pepper – 2 pcs.
Cabbage – 500-700 g
Vegetable oil – 100 ml
Lard – 150 g
Salt to taste
Ground pepper – to taste
Sugar – 1 tbsp
Vinegar – 1 tbsp
Greens (dill, parsley)
Directions
Put pork with bone and 3 small peeled potatoes in cold water. Boil, remove noise from the broth surface. Cook until the meat is tender (check for tenderness). In the meantime, the broth is being cooked, we will prepare the dressing for the borscht.

Pour boiling water over the tomatoes and leave for 5 minutes.
Cut the bacon into small cubes, fry the fat in a pan and remove the greaves, if desired, add the sunflower oil.
Finely chop the garlic and fry in hot fat.
Add onion, cut into strips and fry until transparent. Then put carrots cut into strips and fry too. Cut the beets into strips and fry too.
While the beets are browning, peel the tomatoes and cut them into small cubes.
Add chopped tomatoes to the fried vegetables, mix.
Add to the dressing 1 teaspoon ground pepper, 1 tbsp sugar, 1 tbsp salt and add 1 tbsp vinegar. Stir and simmer over low heat, stirring occasionally. When the moisture has evaporated, turn off the heat.

The potatoes are cooked, take out on a plate, pour a little broth, mashed potatoes with a fork, then send the mashed potatoes back to the pan.
We take out the finished meat, cool it, separate the meat from the bones, cut it into pieces and send it to the pan.
Cut the remaining peeled potatoes into cubes and send them to the pan.
Chop the cabbage, salt a little with coarse salt and squeeze a little with your hands (you don't need to squeeze the old cabbage, the young one).
Cut the pepper into strips. Finely chop the greens.
When the potatoes are cooked (the softness can be checked with a fork or knife), pour the prepared dressing into a saucepan and stir.
We fall asleep cabbage, mix.
Add pepper to the salad and sprinkle with herbs for flavor. Bring the borsch to a boil, cook for 2 minutes, salt (salt if necessary). Turn off the heat, cover, and leave the Ukrainian borsch with pork for 5 minutes. Ukrainian borscht with pork is ready. Bon Appetit!
Also Like
Comments for "Delicious Red Borscht"