Red Borscht with Mushrooms
by Editorial Staff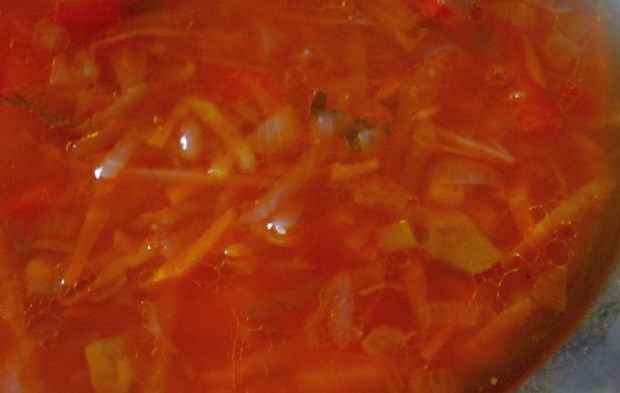 I recommend this dietary borsch with mushrooms to everyone who cares about their shape and health. As well as vegetarians and fasting eaters. To your health! 🙂
Cook: 1 hour 20 mins
Servings: 8
Ingredients
White cabbage – 300 g
Potatoes – 3 pcs.
Beets – 1-2 pcs.
Bulb onions – 1-2 pcs.
Carrots – 1 pc.
Frozen champignons (fresh) – 200 g
Sweet red pepper – 1 pc.
Sugar – 0.5 teaspoon
Salt to taste
Vegetable oil – 30 g
Tomato paste – 1-2 tbsp
Vinegar 9% – 0.5-1 tbsp
Directions
Boil the beets in their skins until tender. To do this, wash the beets, pour cold water. Bring to a boil, then reduce heat to low. Cook the beets on the smallest heat under the lid until tender, about 40-60 minutes. Cool the beets, peel, and coarsely grate.

Peel and wash onions and carrots. Dice the onion. Grate the carrots partially on a coarse grater. Cut the second part of the carrots into thin strips.
Defrost the mushrooms or wash and chop.
Peel the potatoes, wash and cut into cubes.
Wash red pepper, remove seeds. Cut into strips. Chop the cabbage finely.
Boil 2.5 liters of water. Dip potatoes, half onions, and carrots into strips in boiling water. Cook for 15 minutes over medium heat, covered.

Then add cabbage and red pepper. Cook for 10 minutes.
In the meantime, heat the pan, pour in the vegetable oil. Put onions and carrots, simmer, stirring occasionally, over medium heat for 2-3 minutes. Then add the mushrooms. Simmer, stirring occasionally for 5-7 minutes. Add tomato paste. Mix everything well. Simmer for 1 minute.
Put frying and beets in the borscht. Season with salt and pepper, add sugar and vinegar. To cover with a lid. Cook red borscht with mushrooms for 5-10 minutes. Remove from heat.
Red borsch with mushrooms is ready. Let the borscht brew under the lid for 20 minutes. You can serve. Serve red borsch with mushrooms and herbs. Bon Appetit!
Also Like
Comments for "Red Borscht with Mushrooms"